How Waitrose's little green tokens help the community
Every Waitrose shopper is well-acquainted with the little green tokens given to each customer at the checkout, which shoppers place into a box representing one of three causes they would most like to support. Part of their 'Community Matters' scheme, each branch of Waitrose divides a charitable fund of £500 per month amongst the nominated groups according to how many tokens each box has.
January's cash was shared between the Tyneside Rape Crisis Centre, the Aquajets Swimming Club in Fenham and Momentum Skills, a brain injury rehab service – and was welcomed by all three groups.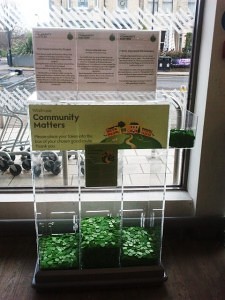 Gemma Armstrong from Momentum Skills, which received £161.23, said: "The funds will go towards purchasing new client resources and equipment for the centre. Recently we have begun working with individuals with MS, therefore adaptable desks and keyboards are a must."
Armstrong also explained the importance of the public's acknowledgement of their cause: "It's vital, not only for the long term sustainability of the services, but also for the wellbeing of individuals within our region.
"The 'Waitrose Community Matters' donations mean we have the ability to purchase high-level specialist equipment to further support our service users in achieving their aspirations."
Tyneside Rape Crisis Centre (TRCC) received £229.65. Manager Sue Pearce said the donated money "will help [the centre] to continue to provide face-to-face counselling for women who have experienced any form of sexual violence at any time in their lives.
"The fact there was a collection box in Waitrose has helped raise awareness for TRCC and the issue of sexual violence. It's good to know women will have seen our collection box and now know there is a service in Tyneside which can support them, or a family member or friend, if needed."
Fenham's Aquajets swimming group received £109.12. Club treasurer Michael Murdon will put the donation money towards training swimming coaches for the group.  "Keeping coaches up-to-date and improving their qualifications is an essential element in maintaining the standards of our organisation and our charitable purpose," he explained.
Waitrose Jesmond store manager Rob Brewis told JesmondLocal: "The scheme allows us to build genuine relationships within the community."
Nationwide, Waitrose has given over £10 million to 30,000 different causes. What's more, shoppers can nominate their own causes to be considered for the Community Matters scheme; in-store leaflets provide more information.
As demonstrated by January's donations, those little green tokens have the power to give real support to a local cause or charity, so shoppers are urged to think carefully when choosing which box to put theirs in.