St George's Church keen to help heal divided community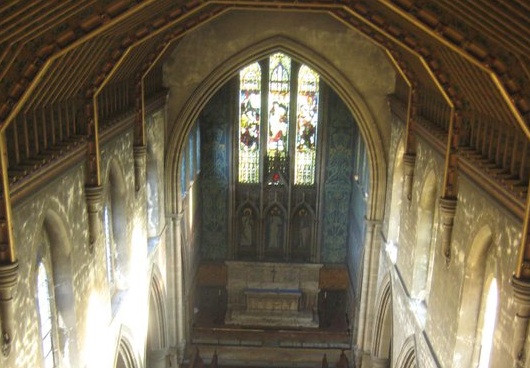 St George's Church, located on St George's Close, has offered to help bring the community of Jesmond together after continued reports of anti-social behaviour attributed to students this academic year.
During last month's JesmondLocal Common Ground Debate, St George's tweeted to offer their support to efforts to bring students and permanent residents together.
#JesmondDebate we are keen to help – please ask us

— St George's Jesmond (@StGeorgeJesmond) January 24, 2017
JesmondLocal spoke to Reverend Professor Pauline Pearson, assistant priest, about how St George's could help heal a feuding community.
"St George's is keen to provide common ground for students and other residents to meet and talk," she said. "We already have a number of events which include both, but we are thinking of offering a more food-related event, where people might sit and eat together."
One of the key points to emerge from the Common Ground debate was that students feel that the mood towards them is generally hostile. St George's are keen to hear the student voice, however, "we'd be happy to look at suggestions from students too", Pearson noted.
#JesmondDebate Should we be looking for students to work with us? Lots of skills & creativity to build ways forward.

— St George's Jesmond (@StGeorgeJesmond) January 24, 2017
Alice Holden, a student who attended the debate, described her volunteering efforts in Newcastle and how students could get involved in volunteering as a way to interact with the local community and help out.
"I volunteer at Success4All learning hubs in Blakelaw and Throckley and I work at Heaton Manor School once a week as an 'inspiring minds' mentor," she said. "Where volunteering is necessary, it would be good. I think what's important is that students are made aware of a community in Jesmond."
Pearson mirrored this, saying St George's would "value volunteers to help with our Friday café" – a dementia-friendly café run as part of the community forum's efforts to make Jesmond dementia friendly.
#JesmondDebate maybe help Dementia Friendly Jesmond? https://t.co/G8NzjQcAfV

— St George's Jesmond (@StGeorgeJesmond) January 24, 2017
Pearson also cast an eye forward to spring, saying there would be "discussions and events held during Lent, looking at 'more in common' on various topics."
In Lent we will be looking at #MoreInCommon – working to look at ways of bridging division & celebrating all in common https://t.co/qvETByfD37

— St George's Jesmond (@StGeorgeJesmond) January 24, 2017
The general mood from the Common Ground debate was that more needs to be done to help foster a more cohesive community and that both sides of the current anti-social behaviour debate – students and permanent residents – can help to achieve this.
St George's has offered to help do so by providing its services as an inclusive church that all can attend to help make Jesmond work together and love thy neighbour.