Operation Oak criticised in Labour leaflet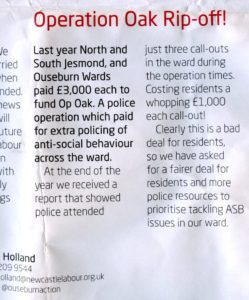 A leaflet criticising Operation Oak, the night-time noise initiative operated by police and co-funded by Jesmond and Ouseburn council ward budgets, has been delivered to residents in the Ouseburn, apparently published by Newcastle Labour councillors.
The leaflet (pictured right) claims that Operation Oak is a "bad deal" for residents, as the police do not attend enough call-outs to make the cost of the operation worth it.
Currently, each ward has dedicated £3,000 to buy into the operation, and both universities contribute too.
The leaflet claims that police attended "just three call-outs in the ward during operation times", presumably referring to the Ouseburn ward. It also claims that councillors are seeking a "fairer deal for residents", as well as more police resources "to prioritise tackling ASB issues".
Jesmond councillor Felicity Mendelson told JesmondLocal that she and her colleagues will be discussing Operation Oak with Ouseburn councillors to "ensure all wards who buy in get a fair share of the service".
However, she refuted the claim that the police are not called out to the area often, as officers are on call and in the area "most Friday and Saturday nights and other difficult periods such as fresher's fortnight, Halloween and St. Patrick's Day."
Cllr Mendelson added that although the ward's contribution is "a lot less than last year" due to budget cutbacks, the Jesmond councillors closely monitor Operation Oak and meet "regularly" with police officers "to ensure we get value for money."
The leaflet was published on Twitter by Ouseburn Lib Dem councillor Gareth Kane, who wrote that police had confirmed to him that the story was "utter nonsense". He added in follow-up tweets that "Op Oak-funded officers are in the area every weekend during term", and that some councillors "have it in for Operation Oak".
Operation Oak refers to the police operation which provides extra security and police presence in North Jesmond, South Jesmond and the Ouseburn, as a deterrent to antisocial behaviour and to tackle student noise in particular. It has been much discussed recently, not least at JesmondLocal's Common Ground Debate in January.