Local landlords face fines
Newcastle City Council has launched a new city-wide code that should reduce the number of "To let" and "For sale" signs on Jesmond's streets.
The high turnover of student and professional leases in Jesmond means that streets are often filled with boards, although residents feel that many are left longer than necessary and make streets look ugly.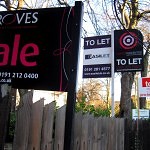 The new voluntary code, which came into effect at the end of November after a period of consultation, states that landlords and agents will be fined £2,500 each time a rule is broken. These rules allow only board per property, and set a time-limit of 14 days for boards to be removed after a let or sale is completed.
However, the new voluntary scheme only reiterates existing legislation under the Town and Country Planning
Act (Control of Advertisements) Regulations of 2007 (Section 3A), which already gives local authorities the power to prosecute those in breach.
Landlords and agents met with councillors on December 3 at the Civic Centre to formally agree to the voluntary code. But support is not unanimous, and many agents disagree with what they see to be a redundant set of
guidelines.
Andrew Jennings of Fraser Grant, a lettings and property management agency in Jesmond, told JesmondL
ocal: "It's a waste of taxpayers' money and council time. If the council enforced existing regulations under the Town and Country Planning Act, there would be no need for the voluntary scheme.
"The only new regulation is that boards cannot be placed in gardens," Jennings continued. "And that makes
no sense, because there are often stipulations in leaseholds – such as Lonsdale Court – that state signs cannot be placed on a building's external walls."
Councillor Bill Shepherd, the council's executive member for housing and regeneration, told JesmondLocal:
"Yes the powers are already available, but we have developed this plan working with the city's landlords. And I feel that it's important to work in partnership with the landlords if at all possible to solve these problems.
"It's vital that the city council demonstrates that we have attempted everything reasonable before the application of what are stringent powers."