Where do Newcastle's footballers hang out?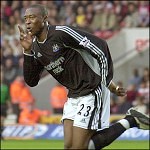 Jesmond Dene House is a good place to start if you want to find Newcastle United stars, such as strikers Marlon Harewood and Shola Ameobi, spending their wages.
Jack Peat works as a cocktail waiter at the plush hotel, and has served both players. "Shola came in with his wife for his birthday," he tells JesmondLocal. "His drinks bill alone came to at least £150. The funny thing about that night was that I caught Shola's wife taking photos of the cocktails she was drinking."
Meanwhile, Marlon Harewood, who has just finished a loan spell with Newcastle United from Aston Villa, has also been enjoying Peat's company. "He's a friendly bloke," says Peat. "He came for a meal with his wife once and bought an expensive red wine that he only drank half of. He asked us to save the bottle – so it's still at the back of the bar with his name on it.
"He also asked whether he could buy our entire cheese trolley that night," Peat adds.
A less popular figure in Newcastle is Derek Llambias, chairman of Newcastle United, who is held partly responsible for the club's recent demise. "He's a regular here," Peat reveals. "He usually visits for meetings that he wants to be kept secret. The last time he came in was for a last-minute meeting on the evening the club was taken off the market."