Choirs and cakes
Jesmond Community Festival-goers were treated to an outstanding performance of Mozart's Mass in C Minor in Holy Trinity Church by Jesmond Choral Group – an amazing standard from this amateur choir under the musical direction of Jonathan Scott, performing a difficult and lengthy work.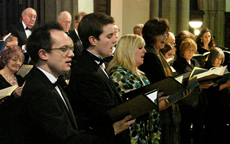 As an introduction to the main concert, three young soloists from the Northern Sinfonia Chorus performed their own choices, and showed the depth of talent in this area.
Like all the concerts in the festival, this performance was free, and featured catering by Café Bar One.
In other news… the winner of Jesmond Community Festival's first cake competition was Hilary Pitkethly, with her home-baked cherry and almond Cake. Tim Boyers of Cafe 1901, the competition's sponsors, said: "Some of the other entries looked spectacular, but the cherry and almond cake tasted absolutely fabulous." Pitkethly won a meal for two at Cafe 1901 as her prize. There is no photograph of the winning cake – by the time our photographer arrived it had all been eaten.