SIY: Sing it yourself
Two free choral concerts taking place during this month's Jesmond Community Festival come with a novel twist: anyone who can sing is invited to come and join the afternoon rehearsals, then perform in the evening concerts.
The two concerts – both at St George's Church on the weekend of 20th/21nd March – cover different types of programme, so there should be something for everyone, whether you are an experienced singer or just someone who would like to try singing for the first time.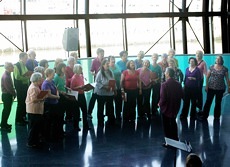 On Saturday 20th March the Durham Scratch Choir (pictured here at the SageGateshead) have a contemporary programme, centred on a new piece written by the choir's musical director, Andy Jackson. "Heaven beneath our Feet" tells the story of the struggles for land for the poor in the time of the English Civil War, and will be performed alongside a selection of songs from around the world. The rehearsal will be from 2-6pm in St George's Church, while the performance (which is also open to allcomers) will be from 7:30-9:30pm. There is no charge, either for performers or audience, although the Durham Scratch Choir will be taking a collection for Mind.
For choral singers, taking part in a performance of Handel's Messiah is one of the most thrilling experiences available. Everyone knows the most famous choruses, so they are easy to join in. On Sunday 21st March Frederick Peacock will be leading a rehearsal of Parts 2 and 3 of Messiah from 2-4pm, with the performance following at 6-8pm. Singers are advised to bring the Prout edition of Messiah, if they have one, but all are welcome, young and old, to sing their hearts out. Again, there is no charge for taking part or joining the audience.
If you have never been before, St George's Church itself is well worth a visit. One of the most beautiful Victorian churches in the North East, the church has a fine musical tradition and ambiance. St George's is towards the northern end of Osborne Road – try googling on NE2 2TF