Brentwood Avenue woes
The economy may be recovering from recession, but the downturn isn't over yet if the experience of retailers on Jesmond's Brentwood Avenue is anything to go by – with three of the avenue's shops being forced to close.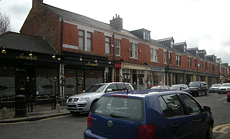 The Italian House, at 44 Brentwood Avenue, will be the latest to shut, preparing to close its doors for the final time at the end of this month and currently selling off all its luxury stock at more than 70% off the original price. It's a sign that many customers are still avoiding luxury and unnecessary purchases in an attempt to save money and prioritise essential items.
The worst-affected stores appear to be those specialising in women's designer and luxury fashion. The closure of Kate Lauren in October last year was a major blow to Brentwood Avenue – and the space remains unoccupied five months later. Then in January this year, the relatively new designer dress agency Déjà Vu closed its doors for the final time after struggling to make profit during the recession.
Director of The Italian House David Urwin told JesmondLocal that bad weather over the Christmas and New Year period was a major contributing factor to the closure of many small businesses in Jesmond as customers stayed indoors because of freezing temperatures, slippery footpaths and dangerous roads.
"We were hoping business night pick up again in the New Year," said Urwin, "and it might have done if we hadn't have had all that bad weather in January." Urwin thinks that the bad weather combined with the closure of the other two fashion stores on Brentwood Avenue to result in fewer people visiting and shopping on Brentwood Avenue.
"I think that with there being just the one niche fashion shop, as opposed to the three together, that has had a knock-on effect on the remaining stores," said Urwin. "There just isn't the variety of choice there used to be on the avenue. If there isn't that choice or shopping experience people will go elsewhere. I don't think empty units help. It's self-perpetuating – if an area looks buoyant then people will visit. If it looks dead customers will start shopping elsewhere."
However Brentwood Avenue has other individual, unique stores which have survived throughout the recession by offering niche and quality products and services. The avenue's two hairdressers, Atthenutshell and Evolution, beauty salon Julie Carter, and home furnishing boutique Wooly Blue have continued to flourish throughout the recession. The refurbishment of Wooly Blue, and eye-catching window displays have provided an injection of colour into the avenue.
Stewart & Co continues to be a popular destination for foodies and there is talk of a designer wedding dress store and florist coming to Brentwood Avenue at the end of May, which could attract wedding planners and brides-to-be. But for now, locals can treat themselves to a bargain at The Italian House's where all stock must go within the next few weeks.
Click below to watch Rachel Flint's slideshow on Brentwood Avenue.