Lib Dems re-elected in North and South Jesmond
Catherine Pagan and Tom Woodwark of the Liberal Democrats have been returned by voters to their seats on Newcastle City Council for the wards of North and South Jesmond respectively.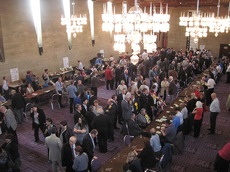 As reported live yesterday from the Civic Centre by JesmondLocal's Caroline Howley on Twitter, Pagan won in North Jesmond with a 46.7% share of the vote, while in South Jesmond Woodwark's share of the vote was 48.6%, after what he described "a feisty campaign".
North Jesmond percentage of votes: Conservatives 22.8%, Green 6.8%, Labour 23.8% and Liberal Democrats 46.7%.
South Jesmond percentage of votes: British National Party 1.5%, Conservatives 18.2%, Green 6.6%, Labour 25.0% and Liberal Democrats 48.6%.
In the contest to represent Jesmond and the rest of Newcastle East at Westminster, Labour's Nick Brown was elected but with a reduce majority of 4,453. Nicholas Brown (Lab) 17,043 votes, Wendy Taylor (LD) 12,590, Dominic Llewellyn (C) 6,068, Alan Spence (BNP) 1,342, Andrew Gray (Green) 620 and Martin Levy (Comm) 177.
Yesterday's count followed chaotic scenes the night before at one of the North Jesmond polling stations at the Methodist church on St George's Terrace where around 150 queuing voters were told at 10pm they were too late to cast their votes. Some were subsequently admitted and allowed to vote, but others were turned away. The Electoral Commission is promising a thorough review.