Cutting Jesmond's carbon footprint
A local environment group hopes to spark a green revolution in Jesmond with a film that shows other communities exploring different ways of cutting their carbon footprint.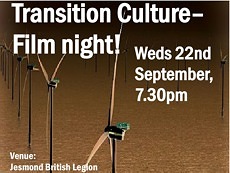 The Transition Jesmond group is presenting the film Transition Culture this Wednesday (22nd September) at 7.30pm at the Royal British Legion on West Jesmond Avenue. The film features groups of people around the UK reducing their dependency on fossil fuels. "Being more independent as a community creates a great sense of achievement, as well as friendship," says Transition Jesmond's Steve Emsley. "The film centres on examples of communities and individuals who are moving far faster than our government to reduce carbon emissions. Many of them are also saving a lot of money on their gas, electric, food and transport bills in the process.
The film also shows examples of good insulation, energy reduction measures, the use of local materials for
building projects and communities uniting to devise local transport systems or grow food locally and communally.
"The film has a clear explanation about climate change, and our dependency on oil and gas which is causing many of the climate change problems around the world," says Emsley. "Local actions need to add up, because without us taking new opportunities, the government will not achieve much. Working together with others
is what is needed to tackle climate change, and rebuild a wider sense of community."