Spending cuts: righteous or reckless?
Yesterday's Comprehensive Spending Review (CSR) announcement by Chancellor of the Exchequer, George Osborne, spelled out how the government will cut spending by £81 billion in the next four years.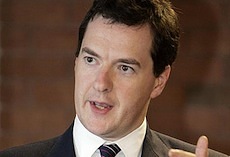 Whilst we await a statement from Newcastle City Council on the impact of the cuts at a local level, here are some of the main points from yesterday's announcement.
490,000 public sector jobs are set to be axed across the UK. KPMG, an accounting firm which works with a number of North East councils, predicts a loss of 55,900 jobs in the region.
Local council spending will be cut by seven per cent a year during the period, although councils will be able to spend that money more flexibly with an end to the ring-fencing of grants and new opportunities for them to borrow against future income.
Police budgets will be cut by four per cent a year, although behind-the-scenes staff are more at risk as the Chancellor pledged not to reduce the number of officers currently on the streets.
There will be a further £7bn cut in welfare funding, although winter fuel allowance, free bus passes and free TV licences for the over-75s will remain in place.
Direct spending on schools will rise by 0.1 per cent each year, although funding for school buildings will fall by 60 per cent. There will be a pupil premium fund of £2.5bn to help disadvantaged children, and free education for three and four year olds will increase to 15 hours per week.
The NHS will undergo £20bn of efficiency cuts, but its budget will increase by 0.4 per cent over the next four years. There will also be an extra £2bn for social care during the period.
Arts funding will be cut by 30 per cent, but the government has pledged to keep free entry to museums.
A £1.4bn regional growth fund has been set aside for Local Enterprise Partnerships – which may include coalitions of local councils – to apply for. This replaces the £2.4bn previously allocated to regional development agencies such as One North East, which will be axed.
How do you think these cuts will affect you and the people of Jesmond? Please let us know in the comments below.
Photo credit: Alan Dean, under Creative Commons licence.