RGS defends preventing student walk-outs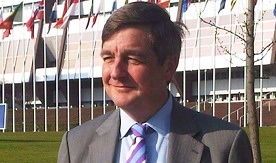 The head teacher of Jesmond's Royal Grammar School (RGS) has defended the decision to prevent its pupils from taking part in a student protest.
Last Wednesday, some members of the RGS sixth form had intended to join university students in voicing their discontent at the government proposal to raise tuition fees – but Dr Bernard Trafford says health and safety concerns were the reason their participation was thwarted.
He told JesmondLocal: "Some of our lower sixth students – who will be the first to be affected [by the proposal] – felt very strongly and wanted to join the protest, going out of school at lunchtime. They had heard about it from leaflets handed out at the Metro station. That left the school with a problem.
"There were no official organisers, so we couldn't find out any details, and therefore couldn't make any decisions or plans for keeping our students safe.
"Not only could I not guarantee their safety, I couldn't even find out what risks there might be.
"Their safety has to be our primary concern. So, although our sixth formers are allowed out of school in free lessons and at lunchtime – Jesmond is a very safe area – I felt I had to write to parents explaining why we didn't want our sixth formers to go down to the university to join any protest and asking them to talk it through with their children."
However, Dr Trafford has refuted rumours that teachers were involved in locking the students in or using threats of punishment if they left the school.
He continued: "These rumours are false. We did neither, trying to keep it all very low-key.
"In the end few, if any, went. I was certainly not aware of any. My deputy and I wandered out at about 1.30pm and saw 200 damp protesters, and none of our students, march up Northumberland Street."
On the contrary, it was a positive day for the school as its rugby 1st XV defeated Leeds Grammar School 8-3 in the fifth round of the Daily Mail Cup. Dr. Trafford added: "It was a tight and tense game that ended in sleet which rapidly turned to snow."
The protests in Newcastle were part of a nationwide campaign to stop the government from enforcing rises in tuition fees. The current prices for students beginning university in September 2011 is £3,375 per year, but the government is proposing to raise them to £9,000 from 2012.