Jesmond Old Cemetery to get new lease of life
Local residents are hoping to breath life into Jesmond Old Cemetery by organising a 'Bramble Clearance' on Sunday 20th March and two guided tours of the cemetery on Sunday 3rdApril as part of the Jesmond Community Festival.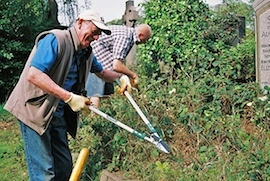 Jesmond Old Cemetery, originally known as Newcastle General Cemetery, was designed by John Dobson and opened as a private cemetery in 1836. It's situated on a 10-acre site, sandwiched between Jesmond Road and Sandyford Road in South Jesmond.
Sometimes described as the 'Highgate of the North', it contains a wealth of social history, particularly in relation to Newcastle's founding fathers of the Victorian era. Buried within Jesmond Old Cemetery are such famous local names as John Dobson himself, the Laing and Hancock families, who bequeathed art galleries and museums to the people of Newcastle and the Bainbridge, Fenwick, Chapman, Pumphrey and Dove families, who all established well known retail businesses within Newcastle – a long list of well known people who had a huge influence on Newcastle's and, indeed, the north east's, development and fame.
However the cemetery has become neglected and the monuments to these celebrated individuals are now overgrown with brambles and ivy. Original pathways have disappeared under grass and weeds and a number of the Grade 2 Listed structures are in a state of disrepair. This is where the Friends of Jesmond Old Cemetery come in.
"We were formed in April 2008 and, working in partnership with Newcastle City Council, it is our stated aim to promote for public benefit, the restoration, conservation and respectful enjoyment of Jesmond Old Cemetery, including its monuments, buildings, green space, wildlife – the cemetery is part of a designated wildlife corridor – playing host to a variety of birds, butterflies, bees and bats) and the overall environment," explains Ray Hayes, one of the organisers.
The Friends of Jesmond Old Cemetery is a voluntary group whose main focus is on the physical work of clearing away the unwanted vegetation and gradually restoring the cemetery to something like its former glory. "In achieving this aim, we are very mindful of our responsibility in ensuring the biodiversity of the cemetery is enhanced and, to this end, we work very closely with the City Council's community wildlife officer, who has been instrumental in helping us produce our biodiversity management plan for the cemetery," says Hayes." We have also been very successful in working with the City Council and the Tyne and Wear county archeologist and city monument manager in securing funding, particularly from English Heritage, for the renovation of the perimeter wall of the Cemetery and the restoration of the South Lodge building."
The Friends have organised a number of activities to encourage local community involvement, including taking part in the BBC's recent 'Dirty Weekend' campaign, where they planted over 100 butterfly and bumble bee attracting plants and renovated a number of previously defunct footpaths. Additionally, the group has held two Business in the Community events, where employees from the Royal Mail and Ward Hadaway helped with the work. The Friends have given presentations to local historical groups plus a presentation at Newcastle's famous 'Lit and Phil Society'. "And as a result, we have had contact, via our website, from various descendants of some of the occupants in the Cemetery, for example, John Dobson and John and Benjamin Green, and Archibald Reid, a six-times Lord Mayor of Newcastle," says Hayes. "Everyone has been very keen to help support our cause to preserve the unique heritage of Jesmond Old Cemetery."
Pre-booking for both festival events is essential. For further information, visit www.jesmondoldcemetery.co.uk or email info@jesmondoldcemetery.co.uk