Local councillor condemns forest sales
A South Jesmond councillor has called government plans to sell off up to 15% of England's forests a "mad and appalling" decision.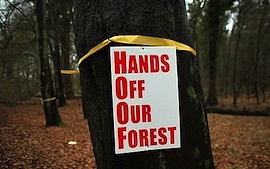 It was announced yesterday that DEFRA, the government department responsible for England's Public Forestry Estate, would go ahead -despite wide public outcry – with the sale of forests under current legislation.
In February, the coalition government was forced into a u-turn for its plans to sell off up to 100% of England's forests – including Chopwell Woods, in Gateshead – in its time in office.
Liberal Democrat councillor for South Jesmond Chris Boyle said: "The first attempt to sell off forests by environment minister Caroline Spelman was a disaster.
"I am vehemently against the sale of forests, and dumbfounded and entirely appalled by the way Ms Spelman has now chosen to advance her seemingly lone opinion on this."
The Liberal Democrat Peer Lord Greaves has also responded to the sale through the www.saveourwoods.co.uk forum. The Save Our Woods campaign was central to forcing the previous u-turn and has begun to campaign against this new decision.
"Ms Spelman accepted previously the plan was a disaster, monumentally unpopular, and wholly unwise," added Cllr Boyle. "I doubt I will ever therefore understand the wisdom of pursuing the same plan on a marginally smaller scale, on the basis it does not require public consultation."
You can join in the debate by visiting www.saveourwoods.co.uk.