Soviets command respect at Jesmond's Mixer
The Mixer played host to some of Jesmond's finest musical talent with Liveoke as part of the Jesmond Community Festival which ended at the weekend.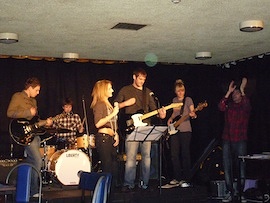 Unlike traditional karaoke nights, there isn't a cheesy box in sight – instead Liveoke at the Mixer is an opportunity to flex your vocal chords accompanied by the slick sounds of local rock band The Soviets.
Despite a slightly lower turnout than usual, the night was far from disappointing with a number of powerful, and some 'alternative', takes on some all time classic tunes. Participants took to the stage to belt out their favourite songs to an always appreciative, if somewhat inebriated, audience. Highlights of the night included the eclectic mix of Twist and Shout, Summer of 69, Don't Look Back in Anger, Son of a Preacher Man, Stand by me and I Bet You Look Good on the Dance Floor.
The Soviets remained supportive and encouraging throughout to all participants. No-one seemed apprehensive or embarrassed within the friendly and welcoming atmosphere. The band, led by charismatic front man Mickey Cochrane, has been together two years and offered a wide selection of new and classic tracks to choose from during the Liveoke proceedings. Set to release their debut album later this year, visit the band's website for more music and gig information.
Liveoke is held the last Saturday of every month at the Mixer in Jesmond. Visit the venue's website or Facebook page for dates and information.