Twins Topham all with seven A*/A grades
It was a double celebration on A Level results day (18 August) for Church High's Topham twins, after sisters Olivia and Lucy Topham picked up an astonishing seven A* and A grades between them.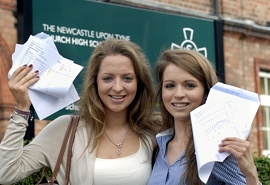 The 18-year old pupils, who attend Newcastle Church High School in Jesmond, were celebrating once more following the 20 A and A* grades they shared between them two years ago at GCSE.
Olivia will now take up her place at Durham University to read geography, while sister Lucy will study aeronautical engineering at Imperial College London.
Lucy, 18, achieved three A*s in history, maths and physics and an A grade in further maths. An A* is the most difficult grade to achieve at this level, requiring 90 per cent or above across all A2 modules. Speaking of her results, Lucy said: "I'm absolutely over the moon with our results. We both had a sleepless night last night and I'm just so excited that we gained the results that we need to go on to our chosen universities and take this exciting step.
"I've always had an interest in aeronautics and it's now that I have the opportunity to develop my passion into a career. It's going to be a big change moving to London and I'll be very sad to leave Church High behind as both Olivia and I have enjoyed many happy years here but I now feel ready to take on this new challenge."
Olivia, who notched up three As in maths, biology and geography, said: "I feel like all of our hard work has paid off. It's going to be so strange leaving behind all of my friends at Church High and living so far away from my sister but we've said that we will visit each other all the time."
Speaking about the girls' combined outstanding academic achievements, Newcastle Church High head, Joy Gatenby, said: "The girls have done so well and we're incredibly proud of what they have achieved. It's been a pleasure to teach them both and watch them grow throughout their years at Church High.
"Despite the fact that the girls are extremely close, they both have very different strengths and interests and we wish them every success as they take the next step and move onto their chosen universities. I am delighted that both Olivia and Lucy's hard work and talents have been recognised and they have been rewarded so highly today. So many girls have so much to celebrate today with virtually all our students gaining a place at their chosen university."
Church High is celebrating a 100% pass rate with an impressive 49% of all results awarded at A* or A grade. In addition three quarters (75%) of all the results gained were A* to B grades and over a third of all girls achieved three or more A and A* grades.