Jesmond gets first fireworks display
Jesmond residents are to have their own fireworks display thanks to Newcastle Cricket Club.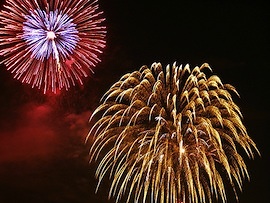 The event, to be held on November 6th, at the cricket ground on Osborne Avenue, is being organised and coordinated by the club –  following requests from community groups in Jesmond which suggested that the ground would be a good location to hold such an event.
While this year's display is a trial, the club says it hopes that it will become a successful annual fixture. However, the number of tickets being sold for this first display is being restricted in order to test a range of ideas and establish a solid foundation for future displays.
Organisers say they are keen to ensure that local people get first opportunity for the limited number of tickets. These will be offered exclusively to Jesmond residents, before going on general sale on Monday (17th October).
The fireworks will be provided by Alan Hilary Events, a company responsible for many of the large displays in the north east area. However, organisers say they hope that the Jesmond display will also include many community groups, and that some may take part with stalls, performances and activities.
The cricket club, which is currently being redeveloped, was recently granted funding from both the North and South Jesmond ward committees for the display, on the grounds that it would unite the community, bringing families, residents and students together.
In the event of severe weather conditions, organisers say the plan would be to postpone the display until early 2012.
For more information, visit the cricket club website. For ticket details, contact Olwyn Hocking via secretary@newcastlecc.co.uk or 0191 281 0746.
EVENT DETAILS:
5.30pm Gates open, refreshments, face painting
6pm Entertainment
6.30pm Fireworks Display
6.45pm Feedback and free raffle
TICKETS:
Advance – £2 adults, £1 children
On the gate – £4 adults, £2 children.
Organisations providing tickets include Jesmond Pool, Oxfam Books, Fern Avenue Residents Association, South Jesmond Farm Residents Association, Northern Counties College, Jesmond Residents Association, Vale House Tenants. West Jesmond School and St Catherine's have a list of places where parents and pupils can buy tickets.