Tintinologist flies in to Jesmond
Michael Farr, a leading 'Tintinologist" and an adviser to Steven Spielberg and Peter Jackson while they were making The Adventures of Tintin: Secret of the Unicorn, is to visit Jesmond this weekend and give a talk in aid of the Friends of St George's Group.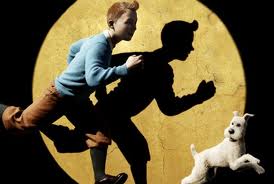 Listen here to our short interview with Farr:
Farr, who had an aunt who lived in Jesmond (he says she was the proud captain of a local women's golf team), will begin his illustrated talk at 3pm on Saturday 29th October in St. George's Church Hall, Osborne Road. Like Tintin, Farr was a foreign reporter before becoming a biographer of Tintin creator Hergé.
Entrance £5 for adults, free to under-16s, light refreshments included. All proceeds to the Friends of St George's lighting fund. A new edition of Farr's book, Tintin: The Complete Companion, has just been published by Egmont.