Oxfam Jesmond hosts fundraising concert at St. Hilda's Church
 Gateshead Youth Orchestra will be performing at St Hilda's Church on Wednesday 21st
December at 7pm in aid of Oxfam Books and Music, Jesmond.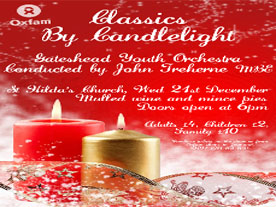 The Orchestra, conducted by John Treherne, Head of Gateshead School's Music Service, will treat the public with a selection of Christmas classics by candlelight, setting
the mood for a festive Christmas celebration.
Doors open at 6pm and the concert lasts from 7pm until 9pm. Prior to the concert there will be mince pies and mulled wine to complement and enhance the celebratory atmosphere.
Katie Liddle, Oxfam shop manager, told Jesmondlocal: "Oxfam Books & Music shop in Jesmond is honoured and grateful to have the support of the Gateshead Youth Orchestra and John Treherne MBE who will perform at St Hilda's church to benefit Oxford development programmes. Oxfam pioneers long-term, life-changing development work that helps people to escape poverty and transform their communities for good."
Tickets can be purchased on the door or from Oxfam Books and Music shop at 2 Acorn Road, Jesmond. Tickets cost £4 for adults, £2 for children and £10 for a family package.
For more information contact Oxfam Books and Music on 0191 2818383.