Have your say on safe routes for cyclists and pedestrians
People who live and work in Jesmond are being asked for their views on the creation of safe, designated routes for cyclists and pedestrians.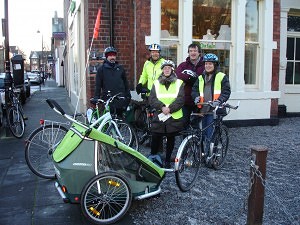 The consultation follows a visit by Newcastle City Council's cycling officer Anne Clark who accompanied traffic engineer Adam Goodwin, Labour councillor David Hardman and local residents on a cycle tour of Jesmond. The group was following up on a similar tour by deputy cabinet chief for cycling Nigel Todd in July, who had described the cycle signing as "abysmal".
The tour took in Acorn Road, Osborne Rd, Jesmond Road, Sandyford Road, the Cradlewell and Grosvenor Avenue. The aim of this second tour was to find out about what things could be improved to make the roads better accessible for cyclists. Several problems were highlighted by the group on the tour:
• minimal cycle parking in Acorn Rd or St George's Terrace – only one possible off road cycle route designated in the area
• no safe place for cyclists to cross Osborne Road – a key route to reach schools and shops
• no advance stop lines at the traffic lights in Osborne Road
• Osborne Road very unfriendly to cyclists due to heavy traffic and the lack of a cycle lane
• cycle signage that does exist does not help to designate a route, for example on Sandyford Road
• an existing route ends on Osborne Road without any indication of where the cyclist should go next.
Tony Waterston of Transition Jesmond and the Newcastle Cycling Campaign said: "We have a wonderful community in Jesmond which is perfect for getting around on a bike. But at present, only the toughest cyclist is prepared to do so as the roads are so unfriendly to cyclists. This is bad for pollution, for health and for the general environment and we must do better."
Sally Watson, the mother of a young baby, told of how she loves to cycle with her children and that her daughter Lizzie is very happy in her trailer. But she says she feels at risk on Osborne Road and would not be willing to let them cycle in Jesmond on their own.
Councillor David Hardman says he has plans to work together with South and North Jesmond councillors to conduct a consultation with local residents to designate routes, which could be used safely by cyclists and pedestrians to reach the main schools and shopping streets. Hardman said: "Jesmond is an ideal place for cycling and there is no reason why all the children at both local and private schools could not cycle to school. We are going to work to improve facilities for cyclists of all ages and turn Jesmond into a place for people which is not over-run by heavy traffic".