Residents asked for 'decent neighbourhood standards'
Newcastle City Council is consulting Jesmond residents over the development of what it calls Decent Neighbourhood Standards, which it will use as a benchmark for wards across the city.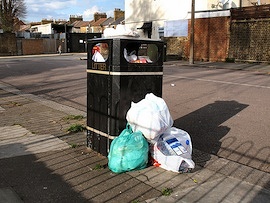 The standards will relate to various aspects of community life – from crime and safety to waste disposal and tidiness of public spaces.
Details of whether each ward is meeting the required standard will be published on at least an annual basis, so that citizens can hold the council to account.
The plans also include new ways of gathering the relevant information, such as "walkabouts" with local councillors and residents to help identify which areas need improvement.
The proposals come as part of a move to devolve more responsibilities and funds to ward level and increase local participation.
Claire Hodgson, the council's community engagement empowerment officer, addressed the North Jesmond ward committee meeting last week (Wednesday 18th January), outlining the purpose of the exercise and encouraging residents to contribute their views.
However, North Jesmond councillor Peter Breakey questioned the value of trying to establish standards. He said people know intuitively what constitutes a decent neighbourhood, but that the difficulty lies in the practicality of delivering it.
The meeting heard residents' concerns about bins blocking the street behind the shops on St George's Terrace, a lack of lighting outside West Jesmond Metro station and the absence of traffic calming measures on Queen's Road: all matters that might be relevant to the consultation.
The council has been noncommittal on much of the detail of the initiative, seemingly relying on residents' input. The document that outlines the proposals contains numerous questions for those wanting to contribute their views.
The next step will be for Hodgson to meet with the ward committee and establish the best way to engage the largest number of local people. Residents at the ward committee meeting were supportive of letters and street surveys as a means of achieving this.
The consultation is likely to go on for three months, but may take longer if necessary. Anyone wishing to contribute their ideas should email letstalk@newcastle.gov.uk or write to FREEPOST, Let's Talk Newcastle.