Community cleans up Jesmond Vale
Around 50 students, Jesmond residents and volunteer rangers met last Sunday at Lansdowne Gardens to help clean up Jesmond Vale.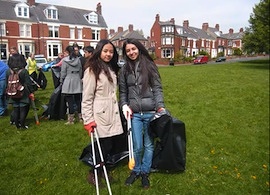 The community event, organised by Labour councillor David Hardman, gathered together student and resident volunteers to take part in a litter-pick and community clean-up in Jesmond Vale. The area covered lies between Ouseburn Road, Jesmond Vale and Newington Road. Local residents were notified by letter, while Sarah Hodgson, community officer at Newcastle University, encouraged students to get involved too. Park ranger Sarah Capes brought along a team of volunteers too.
"It's just great to see the community getting involved and working together with students to help clear up the Vale," she said. The weather was kind too and the three-hour clean up finished with a picnic in the park. Hardman says he is keen to work with both Newcastle and Northumbria universities to organise further clean-up days in South Jesmond.
Check out this interview with Hardman and photographs from the day: