Diamond Jubilee celebrations at Jesmond Parish Church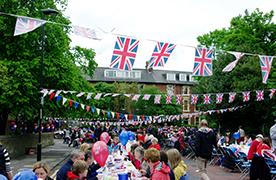 Jesmond celebrated 60 years of Her Majesty the Queen's reign on 4 June, with a street party outside of Jesmond Parish Church.
At 10pm, the Diamond Jubilee beacon on the church tower was lit for an hour. It was one of over 4,000 beacons ignited around the UK and the Commonwealth, from Ben Nevis in Scotland to the Pacific island of Tonga. There were also 60 beacons lit along the length of Hadrian's Wall.
How did you celebrate the Diamond Jubilee? Please let us know in the comments.