PARALYMPIAN GOLD MEDALLIST OPENS NEW GYM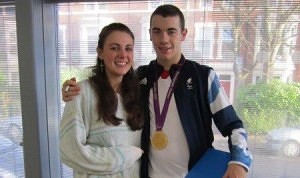 A crowd of 30-40 people gathered last Saturday to watch Paralympian gold medallist Josef Craig officially open Jesmond Pool's new state-of-the-art gym.
Swimmer Craig, from Jarrow, won gold along with a world record at the London Paralympics in September in the S7 400m freestyle.
Young children eager to meet the star gathered at the poolside whilst Paul Rea, chairman of trustees at Jesmond Community Leisure which runs the pool,  gave a short but effective speech.
Jesmond Community Leisure is managed by the community and has operated as a charity since the pool was re-opened thirteen years ago.
Rea said the aim of Jesmond Community Leisure was "to give the community a legacy to be proud of" and that the new extension is one step closer to achieving.
The excitement rose as spectators rushed in to approach Craig with requests for autographs and photos.
Swimmer and Olympic torch bearer Will Hardy also attended the event. He spoke to JesmondLocal about his hopes to compete in the 2016 Rio Paralympics in the 200 IM (individual medley), as well as his ambition one day to become a sports journalist.
Craig meanwhile said he trained from 4am on Mondays and Tuesdays, and 5am on Saturdays, while still attending school every weekday.
Such dedication and passion has resulted in huge successes for the teenager and his achievements will hopefully inspire the young Jesmondites who came to see him.