iPhone stolen from parked car
An iPhone has been stolen from a car parked overnight on Brentwood Avenue. Northumbria Police are appealing for information following the theft of the white iPhone 4 from a Vauxhall Astra parked on the street, home to many local restaurants.
The theft occurred between 11:35pm and 8:30am on the night of July 21st, with a thief or thieves entering the car by breaking one of the front side windows. It is believed likely that the perpetrators were disturbed during the robbery, as an iPad and other valuables, including a wallet, remained in the car.
Mobile phone thefts are becoming more commonplace, bucking the downward trend in crime revealed in national statistics published last week (crime in England and Wales fell 7% year on year to their lowest recorded level; the National Crime Survey began in 1981). "Theft against the person," said Jeff Farrar, the Deputy Constable of Gwent Police, is up 9% nationwide. "The major driver is the rising number of mobile phone thefts," he added.
There were 27,900 thefts from a person from January-March 2013 nationwide, data from the Office of National Statistics (ONS) reveal. 71,900 thefts from a motor vehicle were recorded nationally in the same time period. 13,900 personal property robberies happened in the first quarter.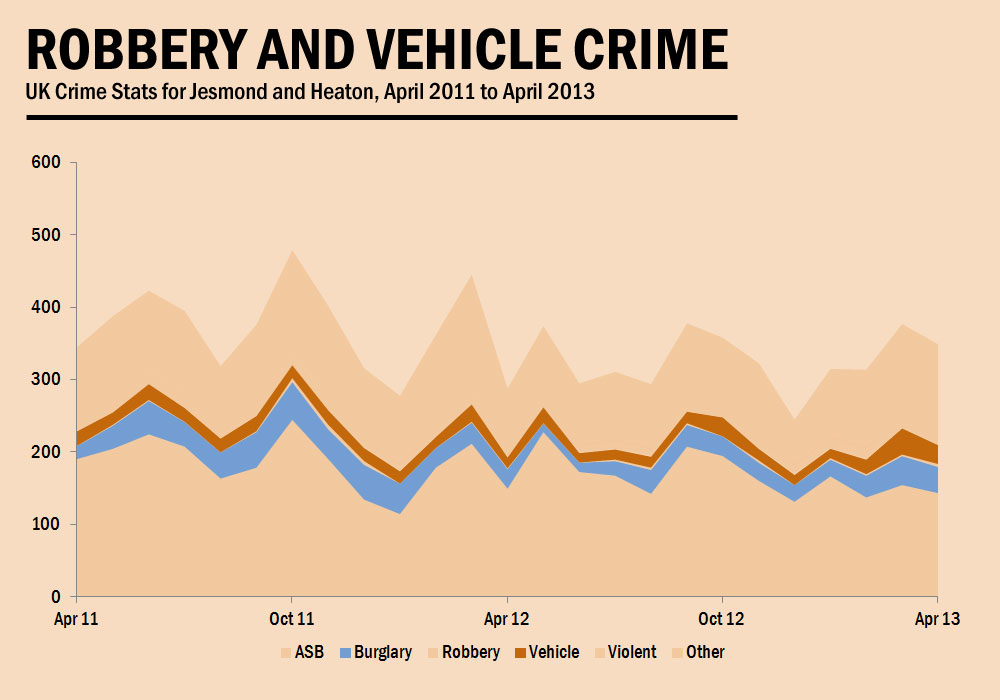 According to UK Crime Stats, Jesmond and Heaton suffered 93 burglaries and 69 vehicle incidents in the same first quarter time period. A further 36 burglaries and 26 vehicle-related incidents were recorded within a five-mile radius of Jesmond and Heaton in April 2013, the latest date for which statistics are available. This latest incident would appear to be the 11th robbery this year in the Heaton-Jesmond area.
Northumbria Police advise motorists not to leave valuables in their car at any time, particularly on show. They also ask anyone in Brentwood Avenue area overnight between Sunday and Monday morning who saw anything or anyone suspicious to call the police on 101 ext 69191.