1,000 visit Real Ale and Cider Festival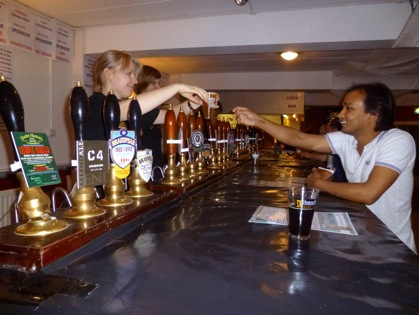 Newcastle Cricket club hosted its fifth Real Ale and Cider Festival on Osborne Avenue, in Jesmond, opening last Thursday at 5pm.The five-day festival attracted over a thousand participants, according to Cricket Club secretary and festival organiser Olwyn Hocking.
Local residents as well as those outside the area, members of the cricket club and CAMRA (Campaign for Real Ale) members were joined by numerous students from local universities who volunteered to serve the drinks. Amongst them was Sandi, a second-year Electrical Engineering student at Newcastle University and member of the Real Ale and Cider society at Northumbria University. "This is my second time as a volunteer here," he said. "I will definitely come back next year."
Twenty different real ales and 16 ciders from local breweries as well as other areas of the UK were a big hit. The Paddle Slasher, a 5.1% floral-aroma ale, was one of the best sellers, selling out after the second day. "You don't often see these kinds of ales in pubs in Newcastle," CAMRA member Adam told JesmondLocal. "I have been to many beer festivals but this one is much nicer."
One of the new activities this year was the Saturday night quiz, which involved 20 different teams. Families were also invited to join the ale and cider aficionados over the weekend, with a curry night on Saturday and children's activities such as quizzes and colouring on Sunday. Monday evening marked the end of the festival, with a barbecue that attracted many students from local universities.
Newcastle Cricket Club social secretary Robert Creswick, who also organised the entire event, explained that the club was trying to "orientate the festival to everybody" and that his big aim was "to get more women to come next year." New fruity cider varieties in development will be introduced next year, growing the festival even further.
With additional reporting by Yolanda Liu
For more information on real ale and ciders, visit the CAMRA website (http://www.camra.org.uk) as well as Newcastle Cricket Club Facebook page https://www.facebook.com/#!/NewcastleCricketClub