Seven hot chocs tested to find tastiest (slideshow)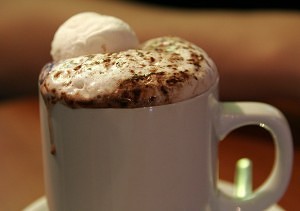 As dark nights roll in and that familiar north-eastern chill takes hold across the region, we all need a winter warmer. Hot chocolate, believed to have been created by the Mayan civilisation around 2,000 years ago, is a very tasty and comforting way to get over the chills.
I decided to try and find the best hot chocolate in Jesmond, and where better place to look than Acorn Road. I ended up tasting, photographing and writing about hot chocolates from seven different retailers – Starbucks, Archers, Greggs, the Fat Hippo Deli, Cafe 1901, the Fat Hippo and the Central Bean Coffee House.
Seven hot chocolates in five days sounds great on paper, but it wasn't easy. Deciding on a winner wasn't easy either, but at the end of the day it's my personal opinion – and I'm sure some people will disagree. Why don't you go out and try them yourselves? After all, the weather isn't going to get any warmer!
Let us know your favourite hot chocolate in Jesmond in the comments below, on Facebook, or on Twitter.