Christmas Market lights up Jesmond Dene
More than two hundred people gathered at the Christmas market at Jesmond Dene this weekend for live music and festive shopping.
The event took place On November 30th and December 1st from 10am-3pm.
Live music was performed throughout each day, livening up the cold winter in Jesmond.  One of the performances was given by children from Dame Allan's School, singing classic Christmas tunes, bringing smiles and joy to the families watching from afar.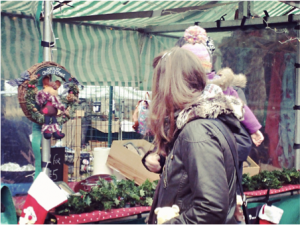 Subtle Christmas decorations and locally crafted items were displayed on about 15 stalls. There were special decorations for Christmas, designed glass works, unique hand-made chocolates and fudges, all perused by customers sipping hot mulled wine while the smell of hot roasted chestnuts wafted through the air.  An ice cream truck in the corner was a firm kids' favourite.
Twirling teacups also lured in children and enhanced the Christmas atmosphere, while cards and Christmas gifts inside Jesmond Dene House were laid out for people to browse, select and buy.
And of course it wouldn't be Christmas without some true festive visitors: Santa's grotto was open for a visit as well as the Christmas donkeys at Pet's Corner.
With additional reporting from Eliza Fayer