Residents Discuss Future of Iconic Acorn Road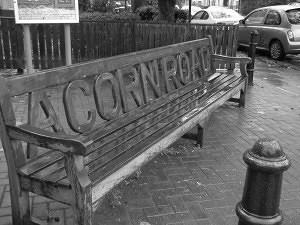 One of the most visited places in Jesmond is Acorn Road, a street lined on either side with shops, restaurants and other businesses. It is one of the few locations in the area where visitors can find students, local families, and members of the elderly community coming together.
On November 29th however, this small road became the focus of a great deal of debate among residents who came together in attempt to address long-standing issues with its layout and usage.
The meeting, held at the Newcastle Cricket Club, brought together residents with varying perspectives and ideas to discuss ways to improve Acorn Road. Paola Spivach and Tom Bailey, representatives of the charity group Sustrans, held presentations outlining what Acorn Road could be and how existing roads throughout Europe could be used as models in future changes.
Residents used the opportunity to not only elaborate on long standing concerns, but to also provide visions of what they think Acorn Road should be. One recurring feeling was to increase the overall safety of the area for pedestrians and cyclists. One mother spoke about fears she had with traffic when going out with her small son. A representative from Jesmond Vale called out for more traffic lights to decrease the risk of accidents.
An older member of the community voiced his desire to ensure that whatever changes come, that elderly residents and those who make use of mobility assistance devices will be able to navigate easily and effectively.  Another elder member called for the use of continuous pavement to alleviate concerns regarding accidents and used previous changes to Osborne Road as an example.
"One of our biggest problems is that we trip on paving stones. They have done a very good job along Osborne Road. That's made a big difference, because if you were on a scooter you had to go into the road," he said.
"It was dreadful before, now it is straightforward."
The main division between those who vocalised their opinions revolved around what functions they want Acorn Road to serve. One resident drew parallels between the current conversation and the one held that saw Northumberland Street transform into a route dedicated to pedestrians. Another resident called for more parking spaces. Yet another was extremely concerned about what changes could mean to the flow of traffic throughout the rest of Jesmond.
The presence of two grocery stores, Tesco and Waitrose, in the area also presents parking and traffic difficulties.
"I wonder if there is a way to limit the size of vehicles that go up and down Acorn Road," a resident remarked.
"At the moment, if you come to the junction with St. George's Terrace you often find that there is an enormously long Tesco van trying to turn there. There are cars parked on the western side, but there are also cars parked illegally on the eastern side and that vehicle can't get around. They have to get into St. George's Terrace, but the way they get into St. George's Terrace does have alternatives."
As the night continued, it became apparent that when it came to the discussion of what problem areas the plan should address, there may be more concerns than a single plan can solve. Not one to mince words, Spivach addressed the issue directly.
"Where do we stand here? I think today is about making up our mind about where we stand and what we want."
Perhaps the most direct and compelling statement of the night came from Bailey in his capacity as a Sustrans representative.
"Ideas that we come up with and discuss tonight, even if they don't go ahead in terms of current schemes, are still worth having."
"There isn't a simple solution."
Do you have concerns about Acorn Road that you feel haven't been addressed? Comment on this article or tweet to JesmondLocal with the hash tag #acornroad.  
Additional reporting by Samantha Killebrew and Marlene Losken.