NUGSS take to the stage to perform 'The Yeomen of the Guard'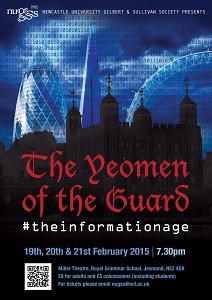 Newcastle University Gilbert and Sullivan Society (NUGGS) will perform an updated version of the opera 'The Yeomen of the Guard', subtitled '#theinformationage', at the Royal Grammar School in Jesmond from February 19th-21st.
'The Yeomen of the Guard' is one of the 14 operas produced by Gilbert and Sullivan, and it is considered the darkest work, lacking the pair's usual happy ending. For this modern production, NUGSS has set the opera in the Tower of London in 2025, where the fate of Colonel Fairfax, who is sentenced to death on a false charge, will be decided.
'The Yeomen of the Guard' premiered in 1888, and it had not been performed by NUGSS for 25 years. The president of NUGSS, Martin Lay, said that the show is slightly different from other Gilbert and Sullivan plays, which almost always end with couples ensconsed in a happy marriage. The different tone of the plot gave Lay licence to adapt the usual high Victorian performance. "We are not afraid to be different," he said.
The idea to set the play in a dystopian future came from Zoe Hull, who is the director of the show.
"We tend to not to do this in a traditional way," said Hull, "We don't change the plot, just sometimes the languages and the structures, trying to modernise the story and make it fit in the theme."
Hull also told JesmondLocal: "The main reason we had to set it in the future was to change the law, to make it work more realistically. The old tower and the new city of London is really exciting. So the #theinformationage is just to bring it into the modern age, as we are in an information age."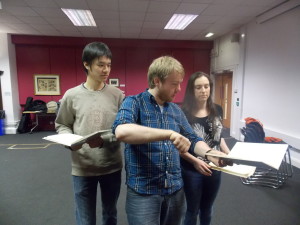 The performance will be carried on by a "strong cast, " said Hull, and accompanied by the student orchestra. NUGSS has been working on its production of the opera since last September, and open audition were held in October. "This time we especially have a lot of new students, and we all enjoy it," said Lay.
NUGSS was established in 1952, and each year puts on two plays: one of the fourteen comic operas by Gilbert and Sullivan, and a smaller summer production. Lay announced in advance to JesmondLocal that this year the small production will be written by one of the member of the society, set to music by Gilbert and Sullivan.
The performance starts at 7.30pm at the Miller Theatre of Royal Grammar School each evening and tickets are £8, with £5 for concessions, including students. To reserve tickets please email at nugss@ncl.ac.uk.
You can also visit http://www.societies.ncl.ac.uk/nugss/index.php for more information about Newcastle University Gilbert and Sullivan Society.