Vote Jesmond 2016: Conservative Party candidates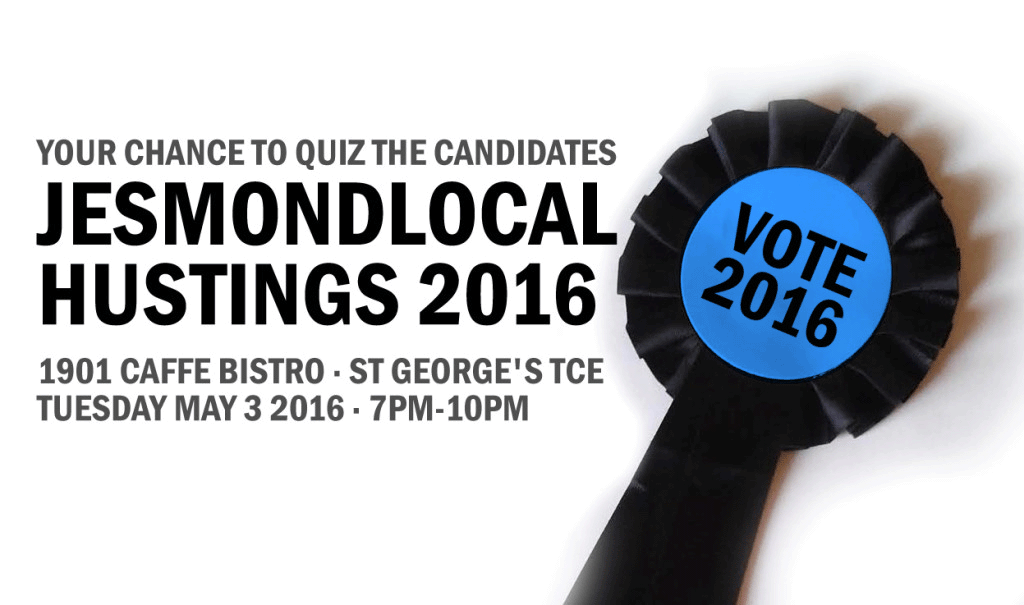 Ahead of local elections on May 5th, and our Vote Jesmond 2016 elections hustings event on May 3rd, JesmondLocal is profiling each of the 10 candidates for councillor in North and South Jesmond. Continuing our five days of profiles, the Conservative Party.

"I wasn't always destined to be a politician," explains Duncan Crute, local businessman and Conservative candidate for North Jesmond. "I think I got gradually drawn into it." There was one moment that made Crute decide to enter politics: at a dinner a few years  back, he spoke up against the keynote speaker, disagreeing with him vehemently. "I got applauded," he recalls. "That's what has driven me forward really." Crute has run his own business, Crutes La Mar, for nearly 20 years.
Why the Conservative party?
I own my own business, previously a marketing consultancy and now a tailoring business. The Conservatives are the only party that understands why business operates and how important it is to the economy. A lot of people aim their anger towards SMEs and assume owning one makes you automatically wealthy. It doesn't. To be frank, politicians don't create jobs, businesses do. The Conservatives understand commercialisation and commerce far better than any other party.
What's the biggest issue facing North Jesmond?
The Acorn Road situation is an absolute shambles; the council didn't listen to anybody on that. I've been canvassing since November and people say they don't bother with Acorn Road because they know they can't park. People are taking their business to places like Kingston Park because they can park their car. There's a one way system on Acorn Road but a two way system for cyclists. How does that work? It's an accident waiting to happen.
The one way system pulls out onto Osborne Road as well: it should pull out onto St George's Terrace. It's moronic. Labour accredited the issues to 'teething problems', but the fact is that nobody was consulted and they just charged ahead with the plans. £3.4m was raised in ward and council tax last year, yet the budget has been cut and is one of worst in the north east. There is not a reasonable relationship between what is made and what is spent and I just want a fairer deal.
How would you get more people in Jesmond active?
I think Jesmond is already quite active. There's the Jesmond Residents' Associations, the Jesmond Dene Residents' Association, and a lot of activity and community spirit in general; the community managed to save the swimming pool and save the library. With the Jesmond Festival and JesmondLocal hustings, there's plenty of opportunity to get involved, and people do. There's a buzz around the place a lot of the time.
How would you support local independent businesses?
Firstly, I wouldn't let the big corporates move in. I remember there used to be a fabulous independent sandwich shop on St George's Terrace. The Council let Subway open opposite and the shop closed down. It's simple, if the big multiples move in, rents go up and rates go up. More protection is needed. I always make a point of going to Cafe 1901, not Starbucks, because it's independent. We need to encourage people to shop independently. Tesco, Waitrose and Sainsbury's are now open all within a small distance of one another. We need a reality check. The independents are bound to suffer as a result and the other parties don't seem to get that.
How do you maintain a purpose in the community in light of council cuts?
The council making cuts. Newcastle City Council – £602m in the red. Interest payments alone are 22 million per year, yet they spend £45m on revamping the Civic Centre. Madness. Purely tarting it up, not structural at all. They want cuts to service, but are more than happy to make changes to live in an ivory city.
They proposed to take councillors down to 56 and to create 56 single member wards. It got thrown out, waste of time, we still have 78 councillors. Cutting services. Grotesque. That money can be put back into community and keep purpose. Darlington Council's Labour bin men took pay cuts, but executivess got salary increases. Their CEO earns £150,000 per year, they have 56 executives earning over £80,000 per year. Newcastle is in the same situation. Doing a job that merits pay of about £35-40,000. "Line pockets and cut services."
How important are students to the local community, and how do you engage them with other residents?
Students are crucial and it's nonsense to say that they aren't. They tend to shop locally, drink locally and eat locally. I believe there is a myth of a split between students and residents. I've lived in North Jesmond for 22 years and have never had any problem with students. I've knocked on a lot of doors over the past six months and nobody has been ranting and raving about students. They work well in the community. What they have been complaining about is the weekend hen parties from all over the UK. The bar licences on Osborne Road is the big area of concern for me and we need to remember that Jesmond is a suburban area, not a city centre.
How can we make Jesmond a more environmentally friendly place to live?
The Greens are all about saving the planet. Personally I think they should try living on this planet before they try saving it. Public transport in Jesmond is poor; the Metro is in the wrong location and is far too expensive. It's actually cheaper to drive into town, park the car for an hour and come back than to take public transport. Something's radically wrong when the bus is more expensive. The pricing needs to be tackled on public transport before you can dissuade people from using their car.
How would you improve transport in Jesmond?
There's a better plan needed to cut costs. I travelled from Regent Centre to Jesmond on the Metro last week, just four stops, and it cost me £2.60. I was shocked by the price. That's just for me travelling alone, imagine a group of people who may be on low income. It's not right. The Metro itself wasn't in a good order either. The platform was untidy, the carriage and seats were dirty.
There seems to be an unhealthy obsession with cycle routes in Jesmond. It's dangerous to put them on major routes, and they need to be moved to the backroads. Osborne Road runs practically the full length of Jesmond, with quieter lanes running parallel. Put the cycle routes there to gives the buses a clearer run down Osborne Road.
What other plans do you have for Jesmond?
Jesmond needs a strong voice, and that's not currently the case in North Jesmond. I spoke to a man whilst I was canvassing who said he was irate about Acorn Road changes. He went to the council to complain and he received an email back indicating he was the only complaint. It's just not true. The community needs somebody who will listen to the needs and wants of the residents and the traders.
(introduction and interview by James Mackay)

Matthew McPherson was born in London, but moved to Newcastle before he was one year old – and has been living here ever since. "I went to school in Gosforth at the Newcastle School for Boys," he explains, "and I have spent a lot of time in Jesmond, particularly over the past years." McPherson joined the Conservative party two years ago and engaged in local politics immediately. "I've been campaigning all over the city about big issues that we are facing. One of the things that made me want to be involved and stand for South Jesmond is because I love Jesmond, I think it is a fantastic community."
Why the Conservative party?
They are the best party to provide a strong voice for taxpayers. One of the big issues in Jesmond is that there is this big disparity between what is raised in Jesmond through taxes and what is spent in Jesmond, which is far less. I think that the Conservatives can resolve that in a way that other parties have not been able to do or haven't done over the past couple of years.
What's the biggest issue facing South Jesmond?
Traffic is a very big issue in South Jesmond and it needs to be resolved. I think it is important we have a balance to transport policy across Newcastle; Jesmond in particular. Cyclists are important; we should encourage cycling. We need a slow progression to encourage people to cycle, not just say "Here are the cycling lanes, use them" like has happened in Gosforth.
How would you get more people in Jesmond active?
We shouldn't be cutting the ward committees. So often in the ward committees people don't show up, so I think it is important that we encourage people to come along, to participate, by making them more resident-led ward committees rather than just city-led.
How would you support local independent businesses?
We should keep business rates low. Now the councils have control of business rates. We should try and cut them where we can and keep them as low as possible. We should also encourage people to shop locally. If local businesses are not used, they will not be there anymore.
How do you maintain a purpose in light of council cuts?
Jesmond has been able to adapt. But, it is important to see local residents being able to use their initiative as they have done with the library, which is now a community-run library. Although, as I said earlier, the amount of money that is raised and spent in Jesmond is disproportionate, so I would like to see a fair balance across Jesmond, for it to get more funding.
How important are students to the local community, and how do you engage them with other residents?
Students are absolute vital for Jesmond. We have to try and encourage people to take part in the community affairs. Councils could talk to students when they first arrive, encourage them to come along to the meetings; they have students' issues on their agenda. But we also need to make them feel like Jesmond is their home, encourage them to care about the community and show that the community cares for them.
How can we make Jesmond a more environmentally friendly place to live?
Litter in Jesmond is not such a big issue as in other areas, but still needs some attention. Having a good amount of bins in the area is important. We need to make people care. Although Jesmond is a very environmentally friendly area, we need to make recycling simple and make people feel an obligation to recycle. Also we should encourage people to use bicycles and walk more.
How would you improve transport in Jesmond?
The Metro is a really good service, but it needs improvement.  For example when it comes to bicycles, they should allowed in the whole of the Metro. The fares also need to be cheaper. Moreover, the bus services and their efficiency should be improved. But we also need to help the car drivers, allow people to park by having enough park spaces.
What other plans do you have for Jesmond?
We need to keep Jesmond clean, especially when the council is making cutbacks. What I want is to be someone that goes out and talk with people on a regular basis, besides the election time, be a voice for people who want to see somebody active in their community. Also, what I would really like to see is for the decisions about Jesmond to be taken by Jesmond and not by others. Local residents in Jesmond should be able to make the decisions for the place they live in and not have decisions taken by others, which often are opposed to what they want.
(introduction and interview by Amalia Schoinaraki)