Vote Jesmond 2016: Who came out on top on the night?
The JesmondLocal 2016 hustings, held yesterday evening at 1901 Caffe Bistro on St George's Terrace, covered a broad range of topics, many of which are familiar to Jesmond residents.
As divisive as ever, debate continued over the purported merits and failings of the changes to Acorn Road, and the issue of student-resident relations was discussed at length, although with greater agreement.
Candidates also faced questions on issues that have recently emerged such as forming a proactive council in the face of budget cuts and efforts to make Jesmond's wards more sustainable. Our liveblog of the evening can be replayed here, while a snapshot of answers and key moments can be seen in a short video which will be published shortly.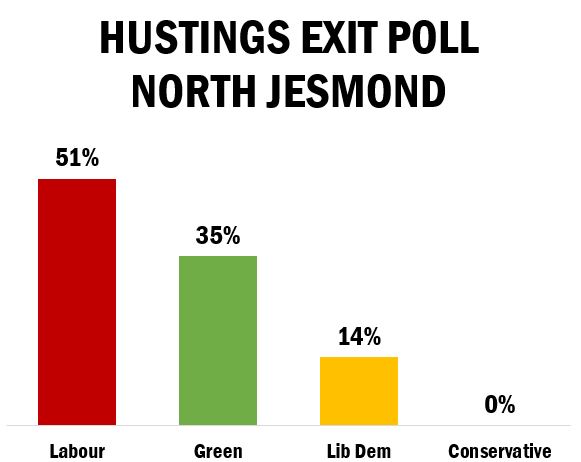 But throughout the evening, JesmondLocal asked the audience – a large number of whom it should be noted were not undecided voters, and came in support of specific candidates – to record their thoughts on who was performing best, and what issues mattered to them.
Those who took our exit poll gave both Labour candidates the nod on the evening. In the North Jesmond ward Stella Postlethwaite polled at 51%, some 16% ahead of her nearest rival, Shehla Naqvi of the Green Party. The Liberal Democrats' Gerry Keating came in third with 14% and the Consevatives Duncan Crute last with 0%.
This result was replicated in the South Jesmond ward, where Felicity Mendelson scored 63% in our on-the-evening poll, while Matt Busby of the Greens recorded 37% support. No other candidates for the South Jesmond ward were present at the hustings.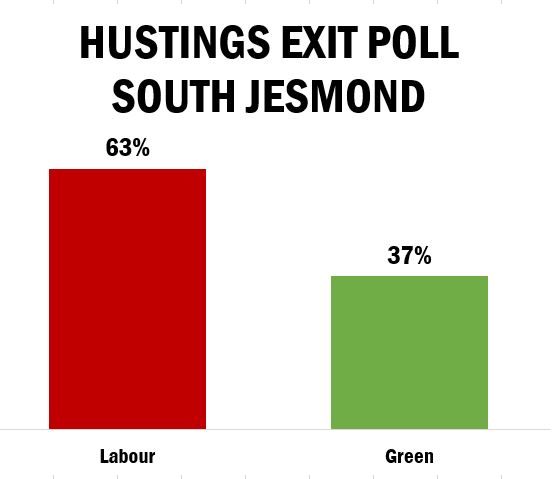 These figures were calculated from a sample of around 35 poll cards completed on the night by an audience of around 50 people, and should be treated with caution, given the fact that many in attendance were supporters of one or more candidates taking part.
JesmondLocal  also carried out a question-by-question poll to determine which candidates and parties scored strongest on individual issues.
Despite the disparity in the exit poll, the Green party candidates scored highly on and issue by issue basis (albeit on a smaller sample size of 12 from an audience of around 50 people), winning the debate on four issues outright (transport, sustainability, HMOs and business), and tying a further three (students, landlords and council funding). Labour came out on top on one individual issue: Osborne Road.
Each candidate was also ranked out of 10 for their performance on the night by the audience:
| | | |
| --- | --- | --- |
| Candidate/Ward | North Jesmond | South Jesmond |
| Felicity Mendelson | | 6.7 |
| Stella Postlethwaite | 6.6 | |
| Shehla Naqvi | 6.4 | |
| Matt Busby | | 5.6 |
| Duncan Crute | 3.9 | |
| Gerry Keating | | 4.9 |
Despite not winning a category outright, both Duncan Crute and Gerry Keating scored highly on certain topics. Crute's messages on students and businesses resonated well with certain sections of the audience, as did Keating's opinions on the student population.