Newcastle City Council pauses Blue House roundabout plans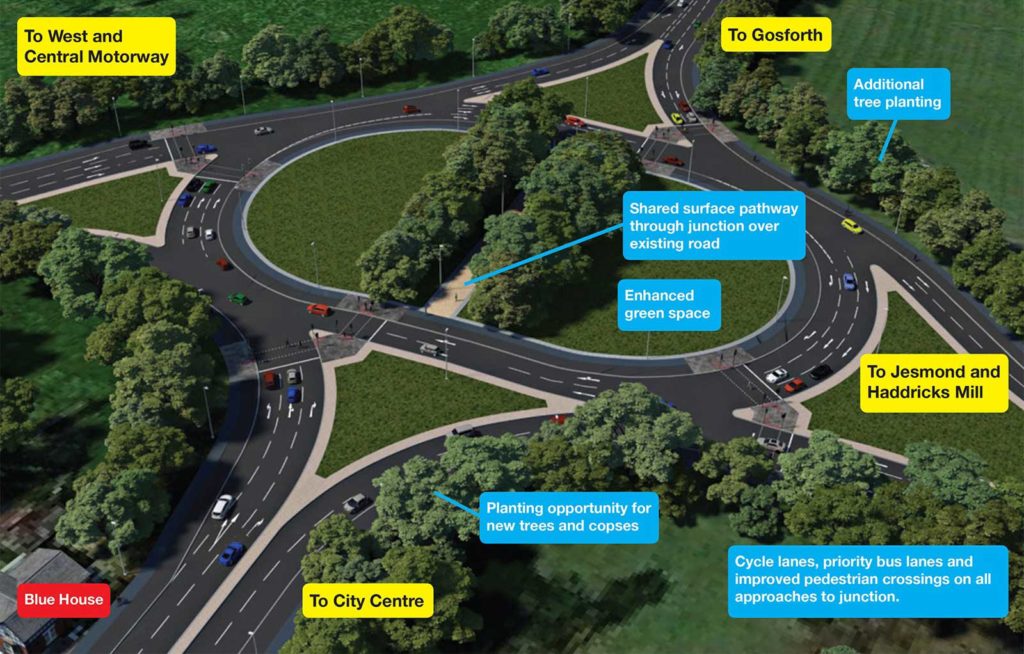 Newcastle City Council has made a humiliating stepdown on plans to change traffic flows at Blue House roundabout.
JesmondLocal reported on the deeply unpopular plans earlier this month.
On August 23rd, Newcastle City Council publicly announced that it will be rethinking its plans to change the road layout at the area following strong public opposition. JesmondLocal was first to report the news.
Cllr Ged Bell, Cabinet Member for Investment and Development said: "The pre-consultation exercise has stimulated a lot of debate about important changes we need to made.
"We've said all along that something needs to be done and the feedback has confirmed that. People have come together to express their concerns and there's been significant public opposition to our outline designs.
"We'll now pause these schemes," Cllr Bell added.
In a YouTube video (viewable above), Cllr Bell also added that "What it's also done is stimulated a large debate around the local area about the future of the junction.
"I want to get back as soon as possible to put residents' minds at rest about things we won't be taking forward," he added.
"First we will not be progressing any further the scale and location of the current junction up for consultation.
"Secondly we'll not be taking any further the proposal for the no right turn onto Osborne Road. Those were the two issues paramount in people's minds."
JesmondLocal was the first news outlet to whom Newcastle Central MP Chi Onwurah shared her thoughts on the news.
@jesmondlocal Great so many expressed their love of Toon Moor & @Newcastlecc listened BUT still need to reduce traffic around #Bluehouse

— chi onwurah (@ChiOnwurah) August 23, 2016
Hundreds campaigned this past weekend against the proposals, taking to the Town Moor to voice their opposition.
Upon hearing the news, Tony Waterston, head of the Jesmond Residents' Association, told JesmondLocal that "we are really delighted that the council has understood the weight of opposition to the Blue House plans and ask that local residents' constructive suggestions are listened to in the next stage."
Fiona Bruce, chair of the High West Jesmond Residents Association, told JesmondLocal "we are absolutely delighted that the Council have listened to an overwhelming response from the people of High West Jesmond and Newcastle and halted the plans for Blue House Roundabout and the no right turn into Osborne Road. "
She added: "There is still some way to go but we are hopeful that because they are willing to engage with local resident organisations going forward that a solution can be found that everyone will be happy with."
Labour councillors for North and South Jesmond released a joint statement, telling JesmondLocal that "the unanimous strength of feeling was clear and, thanks to the sensible comments that were received from residents and the dialogue with cabinet members and officers, the North and South Jesmond Labour councillors are pleased to see that the council has acted accordingly and withdrawnthese pre-consultation plans in their current form."
Cllr Greg Stone, transport spokesman for the Liberal Democrat opposition on Newcastle City Council, said: "the council tried to exclude us from the process but they haven't been able to ignore community concerns. It is very clear that the council's plan was not acceptable to the public.
"We are glad that this scheme has been dropped but we accept that appropriate improvements could be made at this location to boost safety and improve sustainable modes of transport. We look forward to the opportunity for input into the design and decision-making process."
A working group will be established to take forward alternative plans for Blue House roundabout in better consultation with local residents, the council added.