Rise in litter prompts response from local volunteers
The Keep Jesmond Clean volunteer group is to begin monthly litter picks tomorrow in response to residents' concerns regarding Jesmond's streets.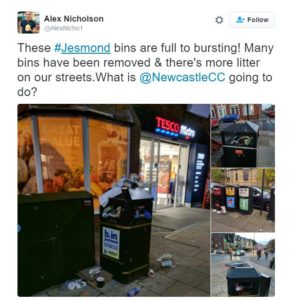 In recent months Jesmond has experienced a rise in the incidence of overflowing bins, litter and broken glass, leading residents to file "very, very high levels of complaints" to Newcastle University caseworker Neil Ford.
One resident has complained to JesmondLocal that "some students seem ignorant of bin procedures and persistently ignore coloured bin days".
In November alone there were reports of fridges dumped in back lanes, glass dropped out of windows, large household items left outside student housing, fly-tipping at West Jesmond Metro station and general problems caused by litter-dropping.

But Maria Zatopi, a student living in Jesmond, argues that students aren't the only ones to blame. "I wouldn't be so sure that students can be held responsible for the litter," she says. "I'd rather say it's the council's problem and whoever is in charge of collecting.
"We've had problems too, as students, with rubbish. Boxes I threw out after unpacking my stuff after summer were still outside in late October, and given that I moved in in mid-September, you can imagine they were pretty gross by that time."
Keep Jesmond Clean will begin its monthly two-hour litter pick tomorrow (Saturday 3rd December) afternoon, beginning at St Hilda's Church on Thornleigh Road at 1pm.
Sandra Hind is one of the organisers of tomorrow's litter pick. "I got fed up hearing myself complain about the state of our streets," she explains, "so I'm pleased to join other residents in doing something about it.
"After this weekend's litter-pick, I will be able to walk safely on the pavements and enjoy the neighbourhood."
The group hopes to provide a short-term solution to Jesmond's litter problem, and this weekend is targeting Norham Place, St George's Terrace, Sanderson Road, Larkspur Terrace, Mistletoe Road, Lily Road and Lily Avenue.
Gavin Aarvold, who has volunteered to run the monthly litter-picks, says the problems in Jesmond are similar to litter issues being experienced by other cities around the country.
"One of the major problems, I think, is the multi-occupancy housing and starter homes. Big families are moving into Jesmond, yet the council is only providing a wheelie bin for a small family, and only emptying them every second week.
"The same goes for the students. They're in houses not built for that kind of occupancy, and not being provided a proper sized bin.
"It's a community problem that we all need to deal with. No one group can be held accountable."
Newcastle City Council is allowing the team to borrow its litter-picking equipment and is promoting its events on social media.