JesmondLocal hosts anti-social behaviour debate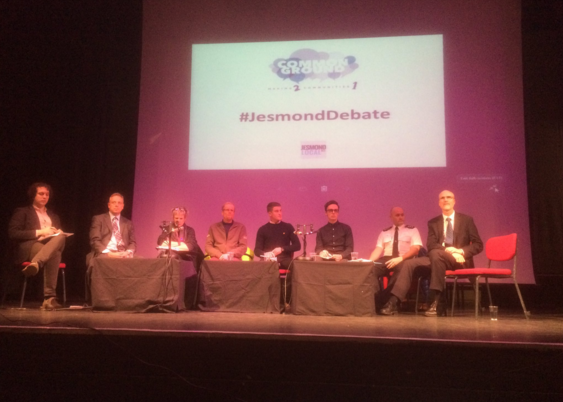 Student anti-social behaviour was on the agenda at a public debate hosted by JesmondLocal on  January 24th.
Jesmond residents met to discuss measures to tackle ongoing problems in the area and put their questions to a panel of experts.
The panel chaired by Ian Wylie, editor of JesmondLocal, included university bosses, student union presidents, local councillors and residents' representatives.
The Question Time-style debate took place at the Royal Grammar School in Jesmond and was live streamed on Facebook.
The decision to organise the debate follows a series of disturbances and a growing number of complaints about  anti-social behaviour in the area.
With growing anger at students amid permanent residents, the event was set to ease the tension and make "two communities one".
At the end of the night a 16-point plan of suggestions on how to remedy the situation, including residents providing information to newly-arriving students on bin collections, signs nudging all residents to be aware of making noise, increased funding from universities for end-of-term cleanups, and residents and students meeting for Sunday roasts,
Last academic term Jesmond saw 505 witnessed events and particularly "upsetting" reports from  concerned residents.
Speaking at the event, Karl Wilson, Chief Inspector of Northumbria Police, noted that "statistically, the reports are going down quite significantly from 2014. However, the nature of these disorders seem to have changed."
It was suggested by one audience member that the nature of student parties had evolved because of alcohol, drugs or the type and number of people invited.
Audience members blamed the booze, pointing to vomits on the streets of Jesmond. One of them said: "Jesmond is an absolute dirty mess. It is disgusting."
Audience members attacked both universities for not being responsible for its students and urged them to introduce more penalties.
Dr John Hogan, registrar at Newcastle University, said: "Come 18 students are adults. We have absolutely no control over adults other than the fact that they are registered as students."
Answering the question about fines, Dr Hogan said: "We use fines as a deterrent and our record shows where that has happened we do not have many repeated events. We fine more than we would want to."
But not everyone was in favour of increasing sanctions for students – some argued that the warning system should become more robust.
Jack Taylor, President of Newcastle University Students' Union, said: "We've got to be careful about the way we treat students. £30 fine for a student is often quite a lot. The student who can't afford a £30 fine can't necessarily eat for a week."
The panel faced a series of questions from the audience about introducing more police in Jesmond.
But there are more "significant challenges" for the police in Newcastle and Gateshead, the Chief Inspector said, as Jesmond remains one of the safest places to live in.
Wilson said: "What we are facing is organisational significant complex challenges. Every single day everyone needs us, and, unfortunately, we make tough decisions as an organisational service."
Felicity Mendelson, Labour councillor for South Jesmond, said: "I don't think we need a greater police presence in Jesmond. We are a very low-crime area of the city. We need to work together on solutions."
This view was supported by the audience members, as one of the tweets sent during the event read: "Far more that unites us than divides us. Need to find some common ground and communicate."
The panel of experts and the public said they would work in partnership with students to resolve current issues.
One of the suggestions was to appoint student community wardens from both universities similar to successful Oxford's scheme.
Others suggested guiding young people to become a part of local community and helping them not to get lost.
Speaking after the event, Andrew Stark, a Newcastle University student and Jesmond resident, said: "I don't think it was a very welcoming environment for students. As a student, I feel less welcomed now than I was before."
Only a small number of students turned up for the debate.