Jesmond's one-woman clean-up warrior
On and around International Women's Day, celebrated on March 8th, JesmondLocal looks at important women in the Jesmond community. Victoria Young spoke to 24-year-old Alicia Wroblewski, a Jesmond Vale resident, who has recently been inspiring young women to make a positive impact in the community.
Since moving to Newcastle in 2015 with her partner Jamie, Wroblewski has collected rubbish a few times weekly, giving up her weekends to make a small but positive environmental impact in areas from Sandyford Road to Jesmond Dene.
Wroblewski borrows Newcastle City Council's clean-up equipment and, for 15 months, has regularly volunteered on the streets of Jesmond, undergoing her own clean-up operations.
Speaking to JesmondLocal, she said: "I've always been an avid hater of public litter – it makes me feel so sad and angry to think that people can be that ignorant of the environment, and the consequences their actions may have.
"Jesmond Vale and Jesmond Dene are such beautiful parts of the city, and we shouldn't take for granted the fact that we are able to enjoy such places."
On top of working her nine-to-five job, Wroblewski has collected more than 150 bags of litter on her personal clean-up crusade.
But she isn't the only person trying to make a positive environmental impact in Jesmond: groups such as Keep Jesmond Clean often go out on similar regular operations.
One woman from Keep Jesmond Clean, Sandra Hind, said that though Wroblewski isn't a part of the team that her work is still making a positive impact. "We could do with a lot more like her of all ages," Hind said.
In a recent Great British Spring Clean, which took place from the March 3rd-5th, Keep Jesmond Clean had little student involvement.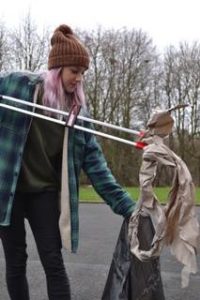 Whilst she understands that others her age "would rather be doing anything else than being out in all weathers cleaning up other people's mess" Wroblewski argues that "if we all just took a bit more responsibility in tidying our front garden or maybe just sticking some garden gloves on, taking a bin bag and picking up forgotten litter on our streets, then we would be making such a positive difference on our communities."
She has inspired those such as Newcastle student and Jesmond resident Karishma Patel, who said that "it's amazing that [Wroblewski] wants to give back to the community, and I believe that despite her being a woman, it's more inspiring to me that, just as an individual, she's willing to make a difference."
Another student resident, Camille Lecuit, said that "it's a nice gesture, but I think that it's sad that the problem's gotten to the point where someone has felt the need to go around and pick up after others."
Wroblewski said she "would absolutely be over the moon if I had inspired people to do the same – you can borrow a litter picker and gloves from Newcastle City Council at any time, and help as much or as little as you like."
She added: "I like to think of myself making a small difference – there is so much of Newcastle that I can't change, but for now I'm glad that I'm helping my little part of the city to look cleaner and better."