Korfball in Jesmond: Tyneside Titans explain why it's a growing sport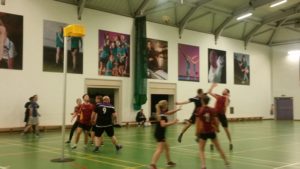 Playing in the North East Korfball League, Jesmond's Tyneside Titans are helping to make the league and this growing sport even more popular.
Originating in the Netherlands more than 100 years ago, korfball is traditionally played with two teams of eight players. The aim is to get the ball into the basket or "korf", which is 3.5 metres tall.
Korfball is commonly described as a cross between netball and basketball but is one of the few sports in the world played with mixed-sex teams, making the sport more inclusive.
"It has developed as a sport in the north east quite quickly in the last few years. We now have around 50 to 60 players," says Fran Henzell, head coach of the Jesmond Tyneside Titans.
The North East Korfball league currently comprises just three teams, but Henzell describes it as a development league where players can learn the foundations of the sport.
"We have a real mix of people. Some have played basketball or netball before, but some have played neither," said Henzell.
Titans player Sarah Chadwick, who has been playing for Jesmond's team since its inception, encourages people of all levels of ability to join and try korfball regardless of what sports they've tried before. "I'm really competitive but really rubbish at sport so I thought this was a beginner's kind of group so everyone would be at the same level," says Chadwick, who joined the Jesmond team at the same time as her her boyfriend, because they were looking for an activity they both could enjoy. "I'd never heard of it before, so it was all completely new but I liked that it was a mixed-sex sport – you don't get that in most other sports, and it's really friendly."
Henzell explains how the sport has specific rules designed to even out the playing field. "Guys can only mark guys, girls can only mark girls which means you can't have a guy overpower a girl," she says.
Chadwick admits that there are many rules to korfball – some of which she doesn't always remember – but that they are easy enough to pick up along the way. "It's a really sociable sport," says Henzell. "It's a good way to make friends, get fit and have a laugh."
Tyneside Titans train on Tuesday evenings 7-9pm at the Newcastle High School for Girls sports centre.