Trai Anfield launches new photography exhibition at Jesmond Dene House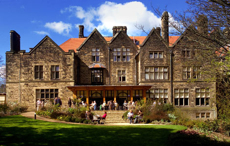 Jesmond Dene House has launched a new photography exhibition in the Billiard Room that will run until June 30th.
On the Road: an Exploration of Life on the Move in SE Asia aims to represent the "immense warmth, openness, grace and generosity of spirit" of the people in that part of the world.
The collection is by celebrated film-maker Trai Anfield: an ex-BBC Look North weather forecaster; presenter of BBC4's The Living World; and owner of Enlightened Media, an ethically and environmentally inspired company that is based around Anfield's personal passions of photography, conservation and travel.
The black and white photographs feature Southeast Asian citizens using different methods of transportation, such as part of a gang of motorbikes, or on board the deck of a ship. However, the theme of movement extends beyond the subject and to the photographer herself.
"The last time I visited Southeast Asia was on honeymoon," said Anfield. "My beloved made me promise that it would be a romantic few weeks, and 'not just another photography trip'. We struck a deal: I could take a camera, but couldn't hold us up 'faffing around' (translation: taking a little time to craft rather than just snap images)."
The kinetic photographs capture the natural rhythm and flow of life in Vietnam, Cambodia and Laos. "I decided to try a more photojournalistic approach, to spontaneously capture life on the road while actually moving myself, be it by tuk tuk, boat, motorcycle, bicycle, bus or on foot," said Anfield. "Each encounter lasted no more than a few fleeting seconds."
Anfield herself was in attendance at the preview at Jesmond Dene House, which took place on Thursday March 30th, to discuss her work and inspiration for the photographs.
"The exhibition is a rare example of art through compromise, and as such I am particularly fond of these photographs," she said, "and still happily married!"