Kaiser Chiefs kick-off building work on Jesmond music therapy centre
Kaiser Chiefs Ricky Wilson and Nick "Peanut" Baines were in Jesmond last week to "break ground" at a ceremony marking the start of building work on a new music therapy centre that will open in spring 2018 at The Fleming on Burdon Terrace.
Once construction is finished on the site of the former Matrons' Lodge at the Fleming Memorial Hospital, the centre will support children and young adults from across the north east through music therapy.
Nordoff Robbins, Britain's largest independent music therapy charity, will run the centre, but funds to build it have been raised by the north-east based Graham Wylie Foundation. Pop stars Wilson and  Baines played their part by headlining a "Rock n Raise" concert, organised by the Foundation to raise funds for the new centre, and held at the Metro Radio Arena on the evening of last year's Great North Run.
Keyboardist Baines told JesmondLocal that the band have remained dedicated to the cause because of the importance of music therapy. Baines ran the Great North Run a second time this September to raise more funds for the Foundation and the new Jesmond facility.
"We've never been part of a groundbreaking ceremony before, and it was such an honour to be a part of it, and talk to journalists about it, and the wonderful improvement that music therapy brings to young people's lives," said Baines.
Nordoff Robbins aims to help vulnerable and isolated people communicate with those around them through music, supporting individuals with a wide range of needs and medical conditions. There are currently only two Nordoff Robbins music centres in the UK: London and Manchester.  According to Baines, who studied at Newcastle University, the Jesmond centre will help make music therapy more accessible to those in the north east.
Evie Whittaker, an 18-year old Nordoff Robbins "ambassador", explained how she had received music therapy after being diagnosed with cancer. She told JesmondLocal: "Meeting the Kaiser Chiefs was great. I've met them a few times before as they're big supporters of the Teenage Cancer Trust, Nordoff Robbins and The Graham Wylie Foundation… they're all so genuine and down to earth."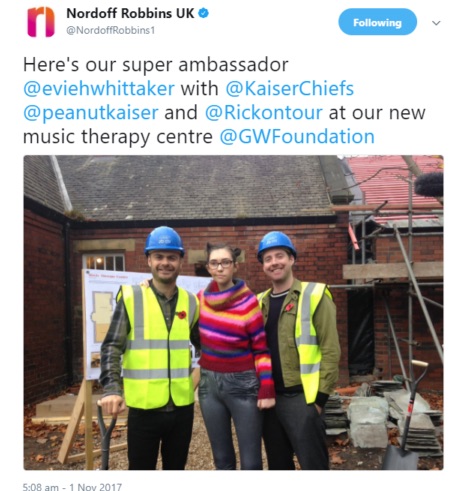 The centre will also become a base for a two-year Masters in Music Therapy, accredited by the Health and Care Professions Council and Goldsmiths University.