Jesmond joggers: On your marks!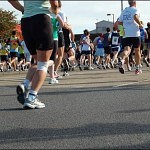 If you've been walking (or running) around Jesmond on a Monday or Wednesday evening there is every chance you will have spotted the Jesmond Joggers. Dressed in fluorescent vests and flashing armbands, the Joggers take to the streets of Jesmond twice a week.
The affiliated running club founded by Scott Armstrong in 2006 gives anyone over 18 around Jesmond the chance to go running, no matter what their ability or for what reason. With 35 members the club can often be spotted jogging through Jesmond Dene, passing up and down Matthew Bank and sprinting over Armstrong Bridge.
The club not only provides its members with the opportunity to go jogging together each week, but also arranges Great North Run training groups and competes in the Harrier league once a month as well as other competitive races for those who wish to take part.
The club is split into ability groups for members to run at ease at all levels and distances.
The Joggers meet on a Monday at 6:45pm and on a Wednesday 7:15pm at Jesmond Pool on St. George's Terrace. Membership is £20 for the year or £1 for a casual run… so get on those running shoes and see what the club has to offer.
For more information about the Jesmond Joggers email Scott Armstrong at jesmondjoggers2006@hotmail.co.uk