Youth room opens at St George's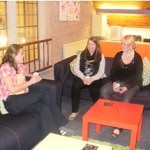 St George's Parish has refurbished its youth room with the aim of providing teenagers in Jesmond with their own space. The room, complete with a TV, table football and Nintendo Wii, will act as a drop-in room on Sundays.
Roz Forbes, a youth worker at the church, says all teenagers are welcome. "We wanted to give young people somewhere to go at no notice, which the area seemed to be lacking," she told Jesmond Local. "We felt this was the best way to use the space we had in a productive way."
Forbes was keen to point out that the youth room, funded through various grants and help from the parochial church council, is not limited to those who attend church.
"We don't want these teenagers to simply feel they must go to church, we want this youth group to really take off, and introduce a real sense of community."
The room will be open every Sunday.