Fewer students would make Jesmond "better"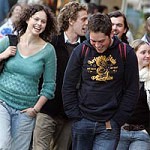 The number of students living in Jesmond should be reduced, says Ron Armstrong, Liberal Democrat councillor for North Jesmond, in an interview with Jesmond Local.
Armstrong recently called for purpose built student "ghettos". He is chairman of a committee working on plans to build flats for second and third years – the students who, traditionally, move out of university accomodation after their first year, into communities such as Jesmond and Heaton.
Armstrong told Jesmond Local:  "My view is that we could reduce the number of students in Jesmond and that would go a long way to making it a better and more sustainable community."  He also claimed the majority of students do not want to move out of purpose built student accommodation.
"Streets with too many students are not economically sustainable," Armstrong added. The short term nature of students' residency in an area such as Jesmond does not cater, he argues, for the long term needs of the local community.
City centre sites such as Gallowgate, Percy Street and Half Moon Yard are being considered as possible locations for the flats and planners have already agreed to a 2,000-bed student village at Portland Green in Shieldfield.
However, Armstrong's views have not been welcomed by local businesses, some of whom argue that removing the student population from such areas would negatively effect the local economy, with students making up approximately a third of their market. David Slater, the council's executive director for regeneration, told Jesmond Local: "We value the contribution students make to the life and economy of the city, and are trying to balance this with the concerns residents have in some areas."