Why I stood aside: Greg Stone
Greg Stone has explained to JesmondLocal why he decided to step down as the Liberal Democrat parliamentary candidate for Newcastle East following controversy over comments he made on a political blog.
Stone told Jesmond Local:  "I took the decision to stand aside as I recognised that I had made a mistake in taking part in some rather juvenile commentary on a political gossip site. My comments, for which I have apologised, were not intended to be deliberately malicious but were in hindsight unkind and regrettable."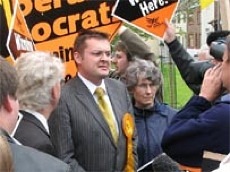 The Newcastle City councillor added that his comments on the site were not wholly negative: "The Labour MP, presumably afraid of losing his seat, had been digging for dirt on me and had leaked to the press a dossier of negative comments taken out of context whilst omitting far more positive comments."
Stone said he decided to step down so that focus could return to issues crucial to Newcastle East. "To my regret the controversy was becoming a distraction from more important ones facing Newcastle East, including the record of the current Labour MP on issues like introducing student tuition fees, closing local services like post offices, introducing higher taxes on the least well off, and of course, MP expenses.
"In Jesmond, local people know we have delivered a great deal for the community after years of failure by Labour to tackle issues like rented housing, recycling, and crime, and I believe they will continue to vote Lib Dem at the local and general election in May."