Take in your bins – or lose them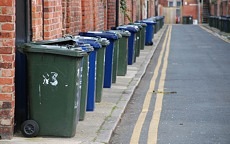 Residents in east Jesmond have been warned to take in their wheelie bins after waste collection, or risk losing them.
Newcastle City Council has issued a warning to homes on Devonshire Place, Cavendish Place, Queens Road, Queens Terrace, Grosvenor Road and Grosvenor Place after a complaint was lodged earlier this month regarding the number of bins left out on back streets for days after they've been emptied.
Council staff began putting warning stickers on offending bins on 15th February, and are currently removing damaged, duplicate and non-addressed bins from the area. Monitoring will take place on 19th and 26th February, and bins left out on Friday 5th March will be removed. Refuse collection for this area usually takes place on Wednesdays.
The council has warned that further monitoring will take place on 12th and 19th March, and any bins found in the street will again be removed.
The council's website advises residents to put out their bins before 7am on collection day or late the previous evening, and take them back onto their property as soon as possible after collection. If this is not possible, residents are asked to contact Envirocall on 0191 274 4000.
The council charges up to £34 for replacement bins, and will not collect rubbish that isn't in an approved container.