Central High takes to the catwalk
Central High's senior students host their annual fashion show this Friday (February 26th), promising a varied collection of work, with AS students presenting their urban architecture inspired outfits on the catwalk. The Year 13s will showcase their own themed collections, having designed a collection of three or four outfits, while seven Central High designers will be presenting collections from themes as contrasting as Retro, Gothic Romantic and Restriction.
The collections are just one element of what will be "a sensational show", said teacher Alison Goldie who is head of the art department at the Jesmond independent school. "Choreography, music, video and lighting combine to provide the very best setting to show off all of the girls' work. They learn a lot from putting the Fashion Show together."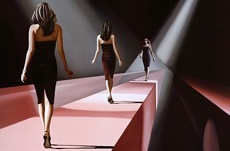 Central High runs one of the few textile A level courses in the region, which focuses on designing and making fashion garments – fashion for the catwalk, not the high street. The event will be held at the Senior School on Eskdale Terrace, with a showing at 5pm and another at 6.30pm.
Tickets are priced at £2.50 per head, and reservations can be made by emailing g.thorpe@cnh.gdst.net.