Franco's raid caught on CCTV
Police are appealing to the public to help identify a burglar who broke into Franco's Italian restaurant, West Jesmond. The incident happened at around 2.30pm on Sunday 10th January.
CCTV footage shows the burglar caught on camera breaking into the till and then leaving on foot out of the front door with cash. He was dressed in a winter coat and a black beanie hat, holding a torch between his teeth. At one point the burglar looked directly into the security camera.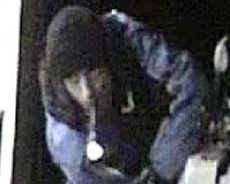 Crimestoppers has now released images of the incident in a bid to catch the offender. Anyone with any information related to this incident or the man pictured should call Crimestoppers on 0800 555111 and quote number 16-10 when calling.