It's free brownie day
For today only (Friday 26th February), Starbucks in Jesmond is offering a free brownie with every cup of coffee – to celebrate Fairtrade Fortnight. According to Starbucks, every cup of latte, cappuccino and americano on sale contains 100% Fairtrade coffee.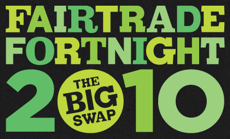 "The Fairtrade Fortnight means that we can introduce our new Fairtrade chocolate brownie as well as a few other Fairtrade aspects to our collection, whilst at the same highlighting the benefits of Fairtrade products in general," explained Stephen Robinson, supervisor at the Starbucks on St George's Terrace in Jesmond.
"We usually have one Fairtrade filter coffee, the Estima blend, but for the fortnight we have introduced an extra filter coffee, the Rwanda Fairtrade blend."
Use this link to print off your voucher and present it when you buy your coffee.
Until 7th March, Fairtrade is running its "Big Swap" campaign in a bid to encourage people to replace their usual products for Fairtrade products. The idea is that by swapping to Fairtrade bananas, tea, coffee and cotton socks, you could make a real difference in making the world a fairer place.
Fairtrade believes that farmers in developing countries should be in complete control of their produce and aims to raise awareness of different ways of doing business in poverty-stricken areas to gain a fairer price for farmers.
You can even share stories of your swaps online here.