Review: Andrea Pattison at the Cherry Tree
As the dimly lit restaurant begins to fill with hungry and curious diners, Andrea Pattison shyly takes to the stage. With just a pianist and coy smile as accompaniment, Pattison starts her set with some classic but heartfelt jazz and soul numbers, before being joined by bassist, drummer and saxophonist.
Pattinson's soulful but delicate voice isn't always easy to hear amid the sound of chattering diners, but the two-set performance is well-paced and suited for the restaurant mood.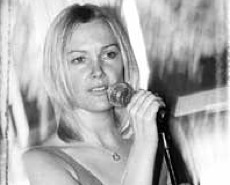 Recognised classics such as 'What a Wonderful World', 'Sway' and 'The Way You Look Tonight' are appreciated and warmly applauded by an audience clearly enjoying their fine dining too. Pattison's quiet shyness seems to make her all the more likeable.
The Andrea Pattison Quintet can be heard here. Rod Sinclair, Mo Scott and Neil Harland will be the next act to play at the Cherry Tree, on Osborne Rd, on Monday 15 February.