Barnett lifts Northumberland squash title
Defending champion and top seed Dave Barnett claimed his seventh consecutive Northumberland county squash championship title after seeing off second seed Paul Lord in a pulsating five-set match at Jesmond's Northumberland Club.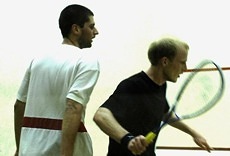 More than 50 of Northumberland's finest squash players competed in four events on the club's five courts. The Mens 'A' and Ladies events both went according to the seedings, with the top two seeds showing their quality en-route to their respective finals. Around 100 spectators enjoyed the men's final on the club's exhibition court.
The Ladies event saw a repeat of last year's final, with number one seed Kimberley Hay again defeating Carole Page, this time in straight sets.
Another five-set encounter saw Tony Hedley win the Mens 'B' event, while the 'C' event showcased the promising future of Northumberland squash. Two 14-year olds starlets contested the final, with Simon Graham edging out Stephen Twaddle 3-2 to lift the trophy.