Have a cuppa with your copper
Locals in Jesmond can sit down for a cuppa and a chat with their neighbourhood PCs in a new series of cafe meetings.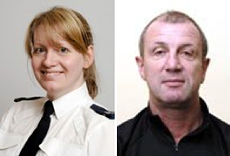 Jesmond Neighbourhood Beat Managers PCs Amanda Berry and Richie Dodds (pictured) will be joined by Community Support Officers Jon Towns and Kirsten McDivvitt for the drop-in sessions – two Wednesdays a month – at Café 1901 and Starbucks on St George's Terrace.
People living and working in Jesmond are being encouraged to drop in to find out about crime and disorder in the area and raise any concerns they may have.

"These cafes in Jesmond attract a lot of people and it's important we hold events and sessions in places where it's convenient for residents," said PC Berry.
"These are informal and we'll be there to answer any questions people may have about crime in the area and to tell them about ongoing initiatives, campaigns and operations to make Jesmond safer.
"If there's anything at all they want to raise as an issues or discuss we'll be there to help. If there are no current issues the drop-in sessions are also a good way for people to get to know who their local officers are and how to contact us."
Neighbourhood Sergeant Graeme Homewood said the cuppa with a copper sessions are yet another way his officers are engaging with the public.
He said: "As part of the Policing Pledge, it's important we make ourselves as accessible as possible to all people in our community. These sessions complement the long list of meetings and events we already host in the area – such as ward committee meetings, local policing surgeries, and crime prevention events.
"It's vital people tell us if they have any concerns so we know what issues we need to be addressing. It's also a way for us to pass on information about all of the good work that takes place in Jesmond to ensure it remains a safe area for people to live and work."
The cafe drop-in sessions will take place at Starbucks at 6pm on Wednesdays on the following dates:
March 3
April 7
May 12
June 16
July 21
And at Café 1901 at 1pm on Wednesdays on the following dates:

March 17
April 21
May 26
June 30